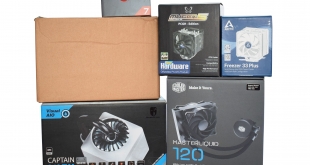 At this point, AMD's Ryzen processors have been on the market for nearly 3 months. It's taken a while for some companies to catch up, but we are getting to a position where most, if not all, CPU coolers now support AM4 either out-of-the-box or with an additional bracket. With that being said, we thought it is high time to get some coolers in and see which is best (in regards to your budget) for the Ryzen processor.
In this 5-way cooler comparison, we have products from the likes of Deepcool, Scythe, Arctic, Cooler Master and even OCUK Tech Labs. Pitting all 5 head-to-head using our Ryzen 7 1700 chip, which cooler can do the best job? Let's find out.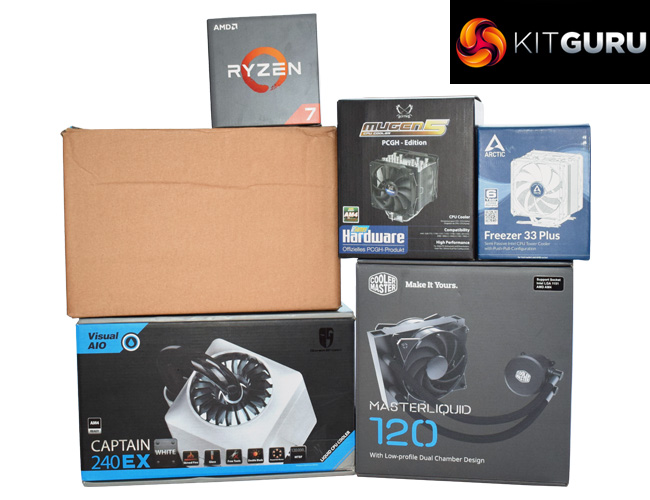 The coolers:
Arctic Freezer 33 Plus
Cooler Master MasterLiquid 120
Deepcool Captain 240 EX
OCUK Tech Labs 240
Scythe Mugen 5 PCGH Edition
Arctic Freezer 33 Plus
The Arctic Freezer 33 Plus is a very conventional air tower. Its heatsink is made from aluminium and it uses 4 copper heatpipes, while its height and width of 150mm and 52mm respectively mean that it is also quite diminutive. It comes with a pair of semi-passive F12 fans, meaning they actually stop spinning when the PWM single drops below 40%.
Installation on our AM4 motherboard was a doddle as the cooler uses the stock backplate: all you need to do is attach two mounting arms to the heatsink, and screw those arms into the backplate. It will barely take 2 minutes.
Cooler Master MasterLiquid 120
Our first liquid cooler, the MasterLiquid 120 from Cooler Master looks quite similar to the MasterLiquid Pro 280 we reviewed previously, but it is obviously a smaller 120mm unit. It does come with two 120mm Air Balance fans, though, which is something I always like to see given the positive effect a push/pull configuration can have.
Installation is by far the easiest of any cooler today, as both the stock backplate and mounting bracket are used. All you need to do is attach two small clips to the cooler's pump, and those clips lock onto the stock bracket. It is essentially like installing an old AMD stock cooler. It still feels secure, though, so I am not complaining at all.
Deepcool Captain 240 EX
We have already reviewed the Deepcool Captain 240 EX on our Intel test bed, but we thought it would be well worth looking at again on the new AM4 platform. The Captain 240 EX definitely has the edge when it comes to aesthetics: the all-white radiator is stunning, while the pump/waterblock also has some exposed hardline tubing which pulses when turned on.
While installation is not exactly hard, it is a bit long-winded: users have to change the stock backplate for Deepcool's own, position two rails on-top of four spacers (and then secure the rails with 4 nuts) and then mount the CPU. As I say, it is not difficult but all the different steps can be a little fiddly.
OCUK Tech Labs 240mm
An interesting addition to our comparison test today, the OCUK Tech Labs 240 AIO is a Gen5 Asetek cooler that has not been modified at all, meaning it is one of the cheapest 240mm liquid coolers around. It ships with two SilverStone 120mm FQ121WC fans, as well as the usual brackets and screws.
Installation is identical to any other Asetek AM4 cooler – it uses the stock backplate, and four screws attach to the backplate. The AM4 bracket is then placed on-top of the screws and is secured with 4 thumbscrews, so all you have to do after that is lock the pump into place by positioning it on-top of the CPU and rotating it slightly.
Scythe Mugen 5 PCGH Edition
An update to the popular Mugen 5, the Scythe Mugen 5 PCGH Edition has a focus on silence: its two 120mm fans have a maximum speed of just 800rpm, so hopefully it should be very quiet indeed. It is also a well-sized heatsink sporting 6 capped heatpipes, and all-in-all it looks quite swish.
Installation of the cooler is quite easy, thanks in-part to the provided screwdriver. Using the stock backplate, four spacers are positioned over the socket holes and two rails are placed on-top. The cooler's pre-installed bracket then screws into these rails, so it is an easy and simple process.To test all CPU coolers, we devised an easily repeatable test with no variables other than the coolers themselves. This ensures that figures from every cooler we test are comparable with each other.
Test rig
Using an open-air test bench, we deploy a Ryzen 7 1700 plugged into a Gigabyte Aorus AX370 Gaming 5 motherboard. Alongside this is 16GB of 2666MHz PNY Anarchy DDR4, as well as a 120GB OCZ Trion 150 SSD. Powering everything is a Seasonic Prime 650W Platinum PSU.
The test process
Testing coolers involves taking a total of 4 temperature readings per cooler. First, we measure the idle temperature of the R7 1700 at stock speeds (3.2GHz across all cores), before measuring its temperature under load at stock speeds. Next, we overclock the CPU to 3.9GHz using a 1.4 Vcore, ensuring greater heat output. In its overclocked state we then measure the idle and load temperatures of the CPU again. The figures we present are temperature deltas – meaning we take each temperature reading and minus the ambient temperature from it. This allows us to test in an environment that is not temperature-controlled.
Where possible, each cooler's fans are plugged directly into the motherboard using the CPU_Fan or CPU_Opt headers. Some AIOs, however, ship with their own fan controllers or PWM hubs. If we are unable to plug the fans directly into the motherboard, it is specified in the performance section of the review.
An idle reading comes from leaving Windows on the desktop for 15 minutes. A load reading comes from running Prime95's (version 26.6) Small FFTs test for 15 minutes – enough time for temperatures to plateau. We get our temperature readings using HWINFO64.
Noise output
Unfortunately I am unable to properly measure the sound output of CPU coolers using a digital sound meter. This is because I am based alongside a busy road (with high ambient noise levels). Using a sound meter is, as such, not possible as there are variables out of my control. However, I will try my best to subjectively describe the noise output in a helpful manner.Temperatures
All temperature charts are sorted with lowest load temperatures at the top.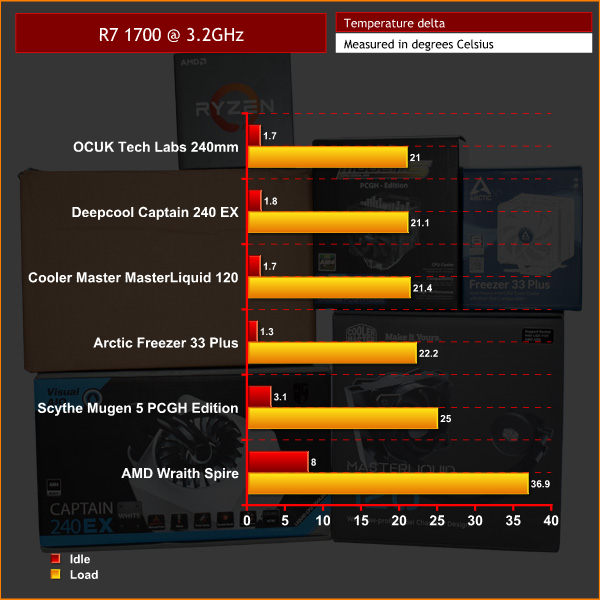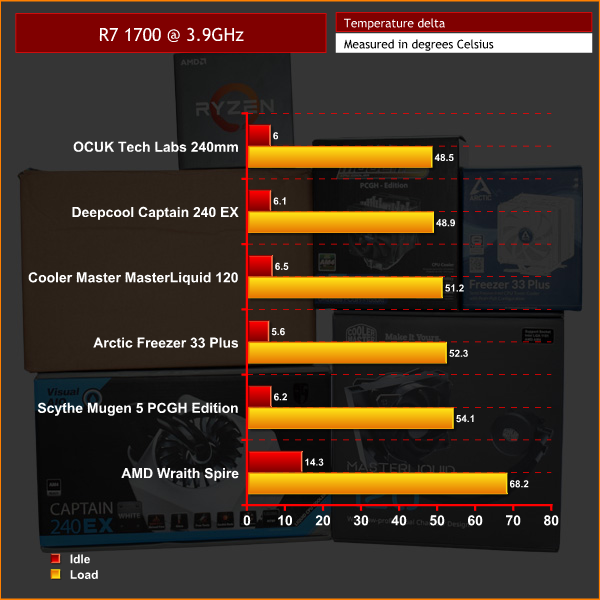 Across both tests, the OCUK Tech Labs 240 AIO proved, just about, to be the best performing cooler. This is not a huge surprise considering its 38mm-thick radiator, but the results are still impressive. In terms of acoustics, the unit's pump is fairly quiet. However, with our CPU overclocked, the two 120mm fans did become noticeable as they emit a relatively high-pitched whirr.
Despite performing marginally worse, the Deepcool Captain 240 EX is still an impressive AIO. It does get the edge over the Tech Labs liquid cooler thanks to its quiet fans – they were noticeably quieter and generally less intrusive. At stock speeds, too, the unit's pump is louder than the fan noise, which is quite impressive.
The Cooler Master MasterLiquid 120 is quite similar in that respect, as both its 120mm fans proved to be nothing more than a low-pitched hum. The two 240mm liquid coolers do just get the edge when it comes to performance, but the difference is only around 2C so it is not too significant.
I wasn't quite as impressed with the Arctic Freezer 33 Plus. As you can see from the charts, it does perform well for an air cooler, scoring close to Cooler Master's 120mm AIO unit. However, the fan on our unit exhibited coil whine. This could potentially be down to an unlucky unit, so we are waiting on another sample to check whether or not this is an isolated incident. On the plus side, the fan does switch off while the system is idle.
Update 12/6/17: Arctic has supplied a second unit for testing and I can confirm that this sample does not exhibit the same whine that so grated on me previously. The new fan is very inoffensive, and while its max speed of 1350rpm is still a fair bit faster than the Scythe Mugen 5 PCGH, it is far from loud and I would happily have it in my own personal rig.
I am most impressed with the Scythe Mugen 5 PCGH Edition, though, as it is absolutely dead quiet, even under the load. To give you some figures, with the CPU at stock clocks, the fans did not spin above 550rpm, while they only span up to 840rpm with the CPU overclocked. In short, this cooler is undoubtedly the quietest air cooler I have ever used – the fans are so quiet they would be drowned out by a whisper. The lack of noise does compromise the performance figures, but only very slightly, and the Mugen 5 PCHG edition still performs within 6 degrees of the top spot.In this comparison article, we looked at 5 different coolers from Deepcool, Scythe, Arctic, Cooler Master and even OCUK Tech Labs to find the best cooler for AMD's new AM4 platform.
While it is hard to draw a clear-cut winner, the OCUK Tech Labs 240 AIO topped both charts for raw performance. It is also very good value at just £72.94, though its fan are slightly too high-pitched for our liking.
Deepcool's Captain 240 EX also performs very well, but it has the advantage of some very funky visuals, while its fans are very quiet even under load. At £72.48 from Ebuyer it is even cheaper than the OCUK AIO, so it does just nudge ahead in our eyes.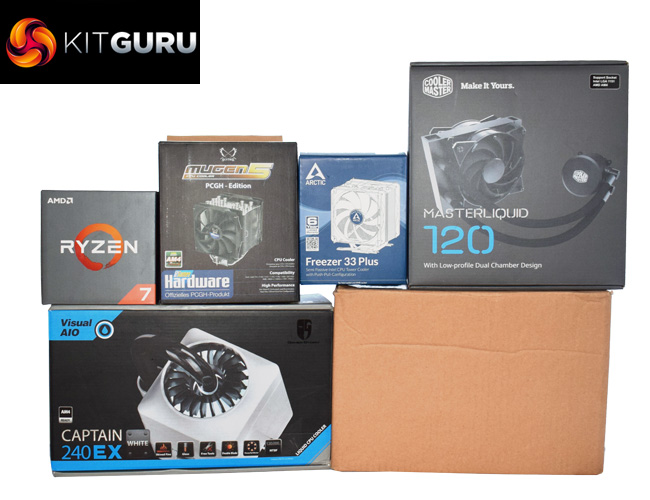 Much the same can be said of Cooler Master's MasterLiquid 120 liquid cooler. It ships with two fans out of the box, while it is also nice and quiet. Despite its smaller radiator, it is still very competitive when compared with the other 240mm liquid coolers on-test, and that makes the MasterLiquid 120 ideal for those looking for top performance in a small package. It costs £69.95.
While I did initially encounter some coil whine issues with the Arctic Freezer 33 Plus, the issue was pin-pointed as a faulty fan and Arctic quickly issued a replacement. In its fully-functional state the Freezer 33 Plus is easy on the ears while providing very solid performance at a low cost, making it a very good option for those looking for a smaller air cooler.
Our last cooler, the Scythe Mugen 5 PCGH Edition, actually impressed me the most. It is not the best-performing cooler, though it is still very competitive, but it is absurdly quiet. I mean, it is seriously quiet – in a case, even under load, you would be hard pressed to make out the whirr of the fans. At £51.43, it also represents decent value and I can't recommend it enough.
Discuss on our Facebook page, over HERE.
Awards:
Deepcool Captain 240 EX – Worth Buying
Cooler Master MasterLiquid 120 – Worth Buying
Arctic Freezer 33 Plus – Worth Buying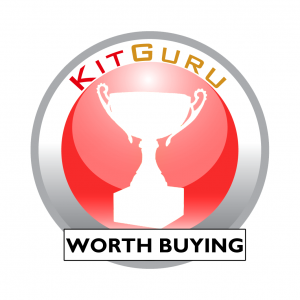 Scythe Mugen 5 PCGH Edition – Must Have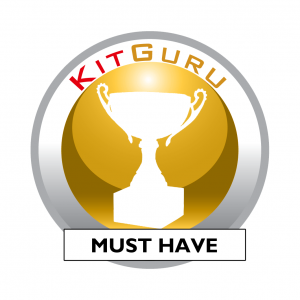 KitGuru says: Testing 5 different coolers for the AM4 platform has been quite revealing. While all performed within 6 degrees of each other, I was most impressed with the Mugen 5 PCGH as it is the quietest CPU cooler I have ever used.
Be sure to check out our sponsors store EKWB here