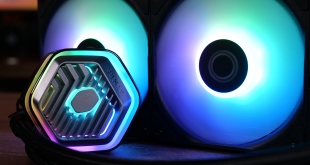 KitGuru has reviewed several Cooler Master AIO CPU coolers over the past few years and each time they have offered great value for money but didn't quite deliver top-class thermal performance. Cooler Master says that will change this time around, however, with a brand new MasterLiquid Atmos AIO series featuring a refined dual chamber pump, a brand new copper cold plate design and pre-installed Sickle Flow Edge 120 fans. But has Cooler Master got it right this time? Let's find out.
Timestamps:
00:00 Start
00:43 Designed inhouse / packaging
02:33 In the box / headers
04:58 A closer look at the cooler
06:49 CPU block / pump / tubing
09:28 ARGB controller
10:34 Mounting brackets / install
14:13 How does it look ?
15:04 Performance results
17:49 Cooler Master Master Control software
18:36 Closing thoughts
We reviewed the Cooler Master MasterLiquid 360L Core recently and while it provided great value for money with a low MSRP, it didn't exactly put out any fires with the thermal performance. However, this new Cooler Master MasterLiquid 360 Atmos is an entirely new design, the dual chamber pump has been reworked and the copper cold plate is an improvement on previous generation coolers. The Atmos also comes equipped with Cooler Master SickleFlow Edge fans, plus the pump unit and packaging are more eco-friendly, giving the Atmos a lower carbon footprint.
All this means that the Atmos is more expensive compared with the Core series, which isn't a surprise since the Core is Cooler Master's value range. But do all these design improvements and extra costs add up to a boost in performance with Atmos? Well, that's what we are here to find out. Cooler Master designs and manufactures its coolers in-house so they have the engineering freedom to do what's needed to improve overall cooler performance unlike some other companies that borrow the design from an OEM and just slap on some different fans and fancy RGB.
As well as claims of increased performance from the new pump/cold plate design, Cooler Master has also added the option for customisation with the Atmos, which might be interesting to users who like to mod their systems. The pump top cover can be easily removed and the plastic piece below replaced with 3D printable designs. Users can create their own designs or download them from printables.com to put a unique look on the cooler to personalise their system. Atmos is also Cooler Master's first product to fully utilise the new MasterCTRL software
Cooler Master MasterLiquid 360 Atmos features:
New dual chamber pump that is designed and manufactured in-house by Cooler Master for optimal performance.
A highly customisable pump top cover is manufactured from 100% recycled plastics and redesigned eco-friendly packaging reduces the Atmos carbon footprint.
Users can customise the look of the pump top with their own designs or 3DPrint other designs from printables.com.
The Atmos is the first Cooler Master product to make full use of the company's MasterCTRL software which provides a user-friendly experience for controlling ARGB lighting and monitoring temperature and performance.
Included Sickle Flow Edge 120 fans equipped with Cooler Master loop dynamic bearings are factory-tested to keep things cool at ultra-low noise levels.
Cooler Master MasterLiquid 360 Atmos Specifications:
Radiator Material: Aluminium
Radiator Dimensions: 394 x 119.6 x 27.2mm (L x W X H)
Pump: 4-Pin PWM Connector
Pump Dimensions: 84.9 x 81 x 53.15 mm (L x W x H)
Pump Max Noise: 25 dBA
Fan Dimensions: 120 x 120 x 25mm (L x W x H)
Fan LED: ARGB
Fan Speed (PWM): 690–2500 RPM
Fan Max Airflow: 70.7 CFM
Fan Max Air Pressure: 3.61 mmH2O
Fan Bearing: Loop Dynamic Bearing
Fan Connector: 4-pin PWM
Warranty: 5 Years
Be sure to check out our sponsors store EKWB here