The debate over which is best between CPU AIO and Air coolers is always a hot topic, with users on both sides of the argument highlighting the positives of each solution. Rajintek realise this by offering CPU coolers in both varieties and has added a new AIO liquid cooler to its product range.
Rajintek has unveiled the EOS 360 RBW all-in-one liquid cooler, which offers a new patented design to provide advanced cooling performance according to Rajintek. The EOS cold plate is manufactured from copper and features a 0.12mm micro-fin design for efficient and even thermal transfer, along with a new patented pump.
The EOS 360 RBW provides an extra-large CPU contact area with multiple channels for efficient liquid flow. Unlike most liquid AIO solutions, the EOS 360 RBW features a pump located inside the radiator, rather than on the CPU. According to Rajintek the pump contains a reliable Ceramic Axis Bearing to provide super silent operation and a life expectancy of 50,000 hours, with a pressure head of 1.5m.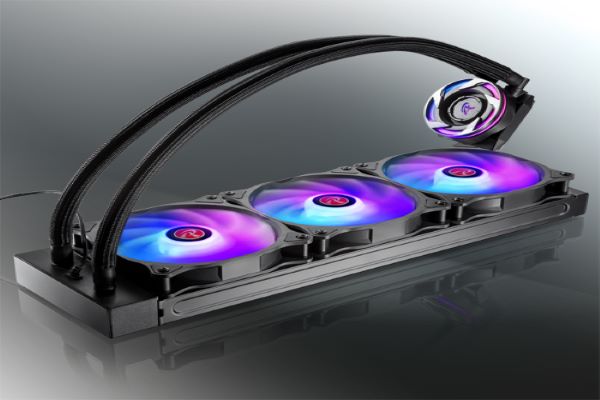 Rajintek has implemented addressable RGB lighting in the three 120mm fans and on the CPU block. The EOS design not only offers a patented pump but also uses a high-density fin radiator, with 12 heat sink water tunnels and 16mm OD reinforced Teflon tubing, with braided sleeving. The included 120mm RGB fans feature high static pressure, hydraulic bearings and PWM speed control.
Key features of the Rajintek EOS 360 RBW:
A new & patented design of the pump & cold plate.
Full copper water block with 0.12mm micro-fin channel and extra-large CPU contact area.
High-pressure head at 1.5 meters.
Durable and reliable PUMP Bearing type – Ceramic axis.
Low noise / silent pump.
Full controllable 5V ADD RGB LED lighting effects.
Specific 11 fan blade design and 8pcs Anti-vibration rubbers.
20: FPI high-density fin radiator with 12 channels.
Solid mounting kits to provide sturdy and easy installation.
Durable Teflon Mesh tube with a low evaporation rate.
50,000 hours Life Expectancy.
Multiple mounting kits for modern sockets of Intel socket LGA 775/115x/1366/201x/2066 CPU (Core™ i3 / i5 / i7/ i9 CPU) and AMD Socket AM4/AM3+/AM3/AM2+/AM2/FM2+/FM2/FM1 CPU.
KitGuru says: Rajintek may not be the most familiar name to some, however, they have proved in the past to offer some great products at an affordable price. Hopefully, the EOS 360 RBW will continue with this trend.