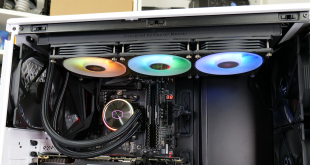 Cooler Master has a new MasterLiquid AIO on the market; the PL360 Flux. With this new model, the company is aiming for the high-end segment for closed-loop liquid cooling units. And it is gunning for that segment with the promise of high performance from its dual-chamber pump, 0 RPM mode on the new Flux series fans, and strong all-round RGB lighting.
The price tag of £179.99 puts the MasterLiquid PL360 Flux firmly into top-tier territory for 360mm AIOs, so let's see if the overall package can deliver.
Video Timestamps
00:00 Start
00:15 Introduction / pricing
00:57 Unboxing and accessories
01:15 PL360 Flux details
03:50 Cables, fans and RGB
04:58 Warranty
05:21 Installation
06:41 RGB quality and software implementation
07:42 Test configuration / setup
08:47 Test results
12:13 Luke's closing thoughts
Cooler Master MasterLiquid PL360 Flux
In terms of accessories, Cooler Master provides mounting hardware and accessories for all modern Intel and AMD platforms, including LGA 1700 and Threadripper. Adapters and cables are supplied for use with the fans as well as the Addressable Gen 2 RGB Controller hub.
I like that Cooler Master provides a tube of thermal paste instead of pre-applying it. This is personal preference that also has maintenance benefits.
Cooler Master uses a conventional 27mm-thick aluminium radiator, albeit with fins that don't fill out the entire thickness of the radiator housing. As usual, the entire radiator is coloured black for a sleek appearance (and possible thermal benefits). There is a fill/drain port near the tubes, but this is for warranty purposes, not user maintenance. There is also a PL240 Flux 240mm version if the 360 is too big for you.
Looking at the tubes, Cooler Master uses a sleek, braided cover to shroud the underlying hoses. Flexibility is a positive as there is rotational adjustment where the tube connections enter the block. And the tubes themselves also have a good degree of manoeuvrability with respect to creating angles from your chassis mount to CPU heatspreader.
The copper cold plate is tiered in its external form. This is fine as the size of the direct CPU heatspreader contact section is appropriate for most platforms, with the exception of Threadripper. A potential benefit of this tiered cold plate design is that there is simply greater volume for the copper to occupy. This can have the benefit of allowing higher fin surface area within the block design, thus opening the possibility of enhanced heat transfer.
Cooler Master's dual-chamber pump is 12VDC powered with a consumption rating of 6W. We couldn't find information on the pump operating speed as our motherboard suggested 9000 RPM and the spec sheet doesn't confirm anything. We did, however, see some suggestion of around 3300 RPM pump speed in the review guide.
The modestly-sized, 40mm-tall pump unit is quoted as having a MTTF of greater than 210,000 hours. I like that Cooler Master has kept the design sleek, not in-your-face, and reasonably sized. This sleekness does, however, mean that there is no pump-mounted VRM fan, which is a little disappointing given the hefty £180 price tag.
There are two zones of RGB lighting and a reflective top cover which features that Cooler Master logo and can be manually rotated to the correct angle.
Cooler Master does very well to keep the pump-unit cables to a sensible quantity. Just the 4-pin power connection for the pump, as well as the 3-pin ARGB header, are leaving the block unit. This is great for front-side cable management, especially as those cables are also nicely braided.
The trio of 120mm Flux series fans feature interconnecting blades, like we saw from Sapphire's Nitro+ S360-A competitor. This has the added benefit of strengthening the overall blade structure and thus potentially minimising noise-creating vibrations. The fans are rated at 0-2300 RPM and can actually operate down to 0 RPM, which is good to see, albeit of questionable use on an AIO liquid cooler. Nevertheless, that is a positive speed range especially with the conventional 4-pin PWM connection and control.
ARGB lighting on the fans is handled by a series of LEDs and a braided 3-pin ARGB connector. This is ideal for compatibility with the main RGB software tools from motherboard vendors.
I like the inclusion of rubber pads on each corner of the fans. This has the simple benefit of damping noise-causing vibrations.
With greater than 210,000 hours quoted MTTF for the pump, and greater than 160,000 hours quoted MTTF for the fans, Cooler Master gives the MasterLiquid PL360 Flux a warranty of 5 years. This is solid and is absolutely as we would expect for a £180 AIO liquid cooler.
AM4 installation was clear and straightforward. The default AMD backplate and plastic retention clips are used. This means that the AMD bracket can simply be connected to the pump unit, and then the clips are screwed over the default AMD retention bracket lip.
Other than the process of forcing the clip into position – which is always annoying for the default AMD bracket – the install is easy and quick.
Connecting the fans and cables is a bit more time consuming though, especially as the manual makes it a little difficult of a process to follow. This is simply because there are differing installation approaches. And which approach you choose depends on whether you want the motherboard to have full fan control, if you want the Cooler Master Addressable Gen 2 RGB box to act as a splitter, and how you want to run the RGB management.
Eye-catching RGB lighting is certainly a strength for the MasterLiquid PL360 Flux. I think the styling is smooth, the colours are clear, and the LEDs themselves are bright. I also like that there are a couple of lighting zones added in the pump area, so it's not just the fans that get lit.
We opted for Cooler Master's own MasterPlus+ software for RGB control. While certainly not as in-depth as Corsair's iCUE (what really is?) the CM software seems to do a reasonable job.
You get the ability to set different RGB modes and, more importantly, there is individual control for the several LEDs on the fans or pump cover or Cooler Master logo. That final point is a level of granular control that most motherboard vendor software packages will not offer.
Aside from the relatively simple lighting control, though, the MasterPlus+ software doesn't really offer much else in the way of useful functionality. So, if you are happy with your motherboard RGB synchronisation tool, I don't really see the need for you to rush out and install MasterPlus+.
Be sure to check out our sponsors store EKWB here