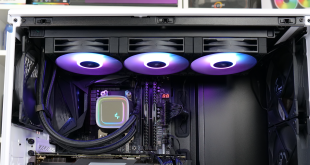 Today, DeepCool is introducing its new LS series liquid coolers. This series deploys a new 4th Gen pump design that is touted as having improved microchannels alongside its 3-phase motor. We have the 360mm LS720 in for review. This unit features a trio of 120mm RGB PWM fans together with the eye-catching Infinity Mirror cap design for the pump-block unit. Coming in at £119.99 in the UK, let's take a closer look at the new DeepCool LS720.
Video Timestamps
00:00 Introduction
00:50 Radiator and tubing design
01:34 CPU block/coldplate
02:55 Pump and fans
04:19 Lighting and cables
05:09 Warranty info / fan lifetime
05:37 Installation process – could be better!
07:09 A note on tubing positions
07:47 Test setup
09:15 Noise levels
09:57 Thermal results
12:44 Closing thoughts
DeepCool uses a conventional 27mm-thick, 360mm-class black aluminium radiator for the LS720. It is good to see the continued inclusion of DeepCool's Anti-Leak technology on the radiator.
This is via the EPDM pressure relief bag that contracts to create a void when pressure rises to relieve the pressure inside the radiator. In theory, this helps to reduce the risk of leakage, which is a clear positive.
The 410mm-long braided tubes have a decent degree of flexibility to them. Alongside the flexibility of the tubes, there is also a reasonable degree of adjustment at the entry points to the block.
Two plastic cable guides are pre-mounted on the reasonably thick tubing. This is a nice quality touch by DeepCool.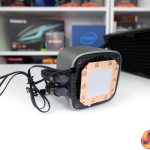 One of the most simplistic benefits of DeepCool's in-house pump/coldplate design is the avoidance of patent issues with the likes of Asetek.
The cold plate is bare copper with pre-applied thermal paste. DeepCool highlights support for modern Intel and AMD platforms including HEDT, and there's also support in place for the upcoming AMD AM5 platform, too.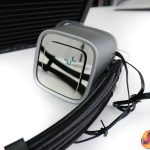 In typical DeepCool fashion, the pump-block unit is physically massive – it measures in at 86x74x57 mm. We wouldn't expect too many interference issues outside of ITX or RAM either side like on HEDT, though.
DeepCool deploys the eye-catching Infinity Mirror display that features the brand logo on a plastic face plate. This face plate can be removed and rotated in 90-degree intervals to allow for correct orientation of the logo, irrespective of one's installation preference. There's also an additional blank plate provided that can be installed. This is provided to allow users some degree of customisation over the visual appearance on the plastic cover.
Two light loops project an eye-catching ARGB LED glow through the Infinity Mirror display.
The 4th Gen Pump is 3-pin 12V DC-powered by a 3-phase motor. It runs at a lofty speed rating of 3100 RPM but it is disappointing to see a less controllable DC – rather than PWM – pump on a premium cooler such as this.
The trio of DeepCool's FC120 fans feature translucent white blades that are optimised for static pressure performance. These 120mm fluid dynamic bearing fans operate at a speed range of 500-2250 RPM and are PWM controlled. The lack of a clear 0 RPM silent mode is disappointing for a premium cooler, though 500 RPM lower limit is likely fine for most usage.
What is a point of contention, though, is the proprietary connectors and cables that DeepCool chooses to use for combined fan and ARGB control. Some people are OK with proprietary, some people aren't.
DeepCool does a very good job of implementing the daisy-chain system that carries fan speed and ARGB control with minimal cable clutter to the motherboard. And then the motherboard handles lighting control and synchronisation which means you don't need to install additional vendor-specific software.
RGB lighting for the cooler's fans and Infinity Mirror pump-block unit is absolutely superb. The lighting is bright, the colours are clear, and granularity is very smooth. I like the lighting on this cooler very much.
Back on the topic of cables, only a single 3-pin fan connector and a proprietary DeepCool connector emanate from the pump-block unit. This is ideal for minimising the sprawl of cables across one's motherboard area.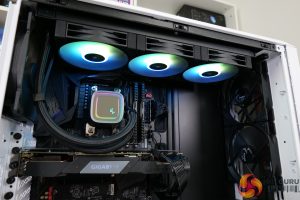 Warranty is very positive for the £119.99 LS720, with DeepCool giving the unit 5 years of coverage. That's excellent and compares nicely with the likes of Corsair and Arctic. The fans are rated at 50,000 hours MTBF, which is slim but is fine alongside a lengthy warranty.
Installation was a process that I found a little more frustrating and time consuming than it needed to be. For reference, this cooler took me about twice as long to install as a conventional Asetek competitor.
You first screw the appropriate brackets onto the bottom of the pump-block unit. But DeepCool doesn't make is hugely clear that each bracket has a very specific position with respect to the tubing.
The default AM4 backplate is held in position with four of DeepCool's thumbscrew stand-offs. The pump-block unit then sits on these stand-offs and is screwed into position.
Then the radiator and fans can be installed, the cables connected, and the DeepCool logo inside the infinity mirror display rotated as desired. I would recommend installing the fans on the radiator whilst it is still outside the chassis because the small proprietary cables and connectors are difficult to deal with otherwise.
The final step is to connect up the cables. DeepCool supplies break-out adapters that can be used to link SATA power, 4-pin PWM control, 3-pin ARGB, and the proprietary fans connections.
I thought the process was just a little more fiddly than the simple hand-twisted brackets used by Asetek and the conventional fan cables also used in general.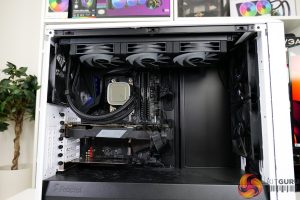 One thing I also want to note is that DeepCool does suggests there is a benefit to installing with tubes in the 6 O'clock position specifically on Intel platforms. We use an AMD platform, so 3 O'clock or 6 O'clock should be similar.
Be sure to check out our sponsors store EKWB here