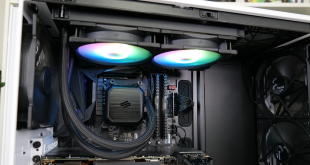 We've already examined some of SilentiumPC's air cooling products and have continuously been impressed by their cooling performance and build quality for very affordable price tags. In this one, we're taking a looking at a foray into AIO liquid cooling for the vendor – that's with the Navis F240 ARGB. So, how will this 240mm liquid cooler perform? And how will its value appear with a price tag of £75 or £85 the ARGB fans version?
Video Timestamps
00:00 Start
00:47 Unboxing and radiator
01:41 Tubing / coldplate
02:22 Pump and block
03:19 Looking at the fans
04:11 Cable management / warranty
05:22 Installation process
05:42 Test setup
07:08 Noise results
07:48 Thermal results
10:11 Closing thoughts
Mounting hardware and accessories are provided for all modern Intel platforms as well as AM4. You get some cables for handling the fans and connections, plus there's a tube of Pactum PT-3 thermal paste which I always like to see included.
A pleasant surprise was the SilentiumPC pre-applied the cooling fans. This gives the user one less installation task – nice!
SilentiumPC uses a conventional 27mm-thick, 240mm-class black aluminium radiator, albeit with fins that don't span the entire thickness. There is some form of fill/drain port on the unit, but this is not intended for user applications.
The liquid tubes are around 390mm in length and are covered by a high-quality, attractive braiding. Flexibility of the tubes is positive, especially when coupled with the reasonable degree of movement for the entry points at the pump-block unit.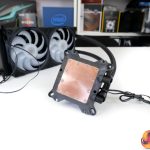 A well-sized bare copper cold plate is used to extract heat from a CPU. Despite being bare copper in form, SilentiumPC highlights compatibility with liquid metal thermal interface material if you're feeling fancy.
I prefer that the cold plate is void of pre-applied thermal paste, particularly as SilentiumPC includes a 1.5g tube which is sufficient for multiple applications.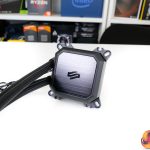 Physically very chunky, the pump-block unit features integrated mounting hardware for the Intel and AMD platforms that this cooler supports.
This is a unique design as most competitors use brackets for mounting capability. I guess this has the benefit of ease of installation because it's one less part to think about. But it does have the downside of making future upgraded support of new sockets a more challenging – perhaps impossible – task.
PWM control is used for the ceramic-bearing pump. This allows the unit to operate in a speed range of 1600 to 2600 RPM, which is ideal for noise output. Interestingly, there is no LED lighting on the pump housing, which feels like a bit of a missed opportunity for an ARGB liquid cooler.
The pair of Fluctus 120 PWM ARGB fans come pre-applied on the radiator. These fans are rated at a speed range of 300-1800 RPM via their 4-pin PWM control. The two fans are daisy-chained together on the radiator meaning that only a single 4-pin header is required to power them – that's smart!
SilentiumPC uses a Fluid Dynamic Bearing inside the fans and there are clear optimisations on the blades to suit the pressure-biased use case.
As far as ARGB goes, control is handled via the standard 3-pin header and management is done by your motherboard vendor's software. This means that there is no requirement for third-party or SIlentiumPC-specific software. And synchronisation with your other components should be seamless.
Given the smart daisy-chaining of the pre-installed fans' cables, management is very easy. There's just the pair of cables leaving the pump-block unit – SATA power and 4-pin PWM control. And then the 4-pin and 3-pin ARGB fan cables can be hidden easily behind the motherboard tray without sprawling across the CPU socket area.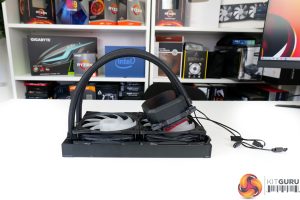 Warranty is just OK on the £75 Navis F240 and the £85 Navis F240 ARGB. Three years for a modern 240mm AIO cooler is fine at this price point, albeit hardly inspiring. The fans are rated at 100,000 hours MTBF, which is also absolutely fine.
But competition namely from Arctic and Corsair is strong at below £90 and those two vendors offer 6-year and 7-year warranties, respectively.
Installation was very quick and easy, thanks in large to SilentiumPC's pre-applied hardware.
All we needed to do was insert the threaded stand-offs into the default AM4 backplate. We then applied paste and positioned the pump-block unit, and once the spring and thumbscrew were tightened, the block was in position.
Pre-applied fans made radiator installation quick and simple, and then the reasonable number of cables was easy to route and deal with neatly.
Be sure to check out our sponsors store EKWB here