Last year, Corsair entered the custom liquid cooling market with Hydro X, a full lineup of custom liquid cooling gear, all available separately. This year, Corsair made upgrading to a DIY liquid cooling loop even easier by packaging together Hydro X kits, each containing everything needed to liquid cool your rig.
This may already sound familiar to KitGuru readers as earlier this month, we teamed up with Corsair to giveaway the Hydro X Series iCUE XH305i kit. Now starting today, the XH305i is joined by a second starter kit – the XH303i RGB, featuring a different set of hardware at a reduced price.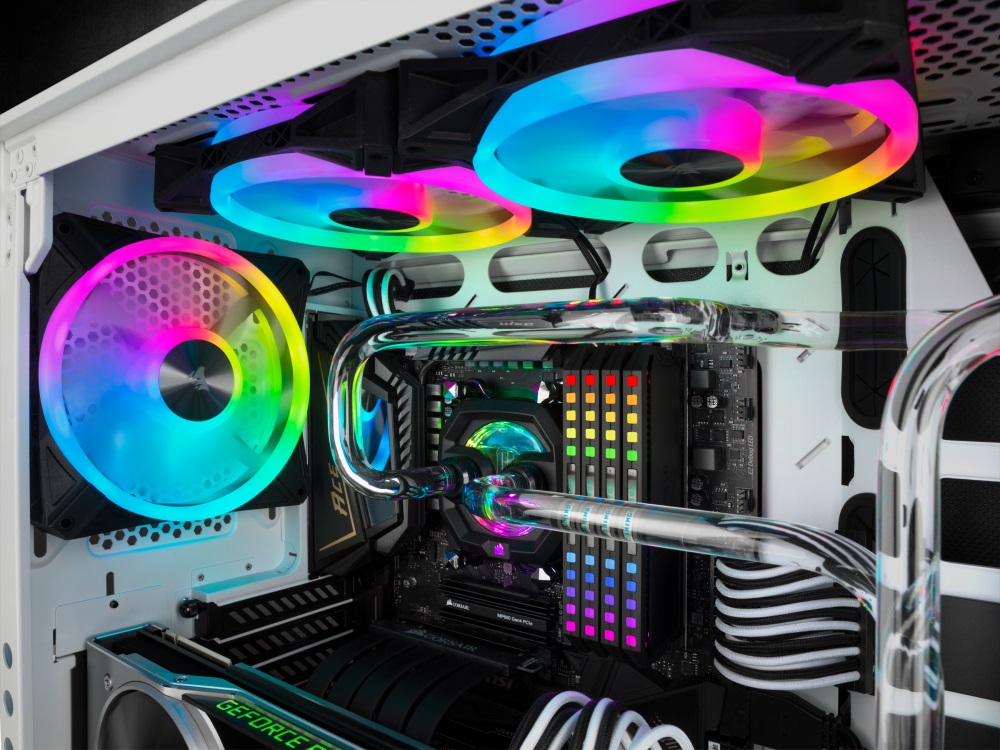 The Corsair Hydro X iCUE XH305i custom cooling kit comes with the following:
XC7 RGB CPU Water Block (compatible with LGA 1200 and AM4 sockets).
XD5 RGB Pump/Reservoir combo.
3x Corsair QL120 RGB PWM fans.
XR5 360mm Radiator.
XT Hardline Tubing.
XL5 Performance Coolant (1 litre).
Tool kit – hacksaw, tube reamer, silicone rod, bending mandrel and sawing clamp.
The Corsair Hydro X iCUE XH303i liquid cooling starter kit comes with:
XC7 RGB CPU Waterblock (compatible with LGA 1200 and AM4 sockets)
XR5 360mm Radiator
XD3 Pump/Reservoir Combo
XL5 CLEAR Coolant (1 litre)
3m XT Hardline 10/14mm Tubing
8 x Hardline 14mm fittings (BLACK)
2 x 90° Rotary Adapters (BLACK)
250 ml Filling Bottle
XT Hardline Bending Kit
3 x SP 120 RGB PRO Fans
RGB Fan LED Hub
The Corsair Hydro X XH305i kit comes with an MSRP of £519.99, while the XH303i kit will set you back £449.99.
Discuss on our Facebook page, HERE.
KitGuru Says: Are any of you planning on putting together a custom liquid cooling loop this year? What do you think of these new starter kits from Corsair?