Advanced Micro Devices on Tuesday announced a new breed of accelerated processing units (APUs) featuring new-generation low-power Jaguar x86 cores that will be available in pin-grid array (PGA) packaging and will be compatible with FS1b sockets (commercially known as AM1). The new chips will be branded as Athlon and Sempron.
When Advanced Micro Devices started to sell its first accelerated processing units code-named Zacate in early 2011, it targeted small form-factor systems and therefore supplied mainboards with APUs soldered onto them. While this allowed PC makers to quickly build low-cost/low-power desktops with AMD inside, it did not provide enough flexibility in many cases as different customers want to design different configurations of PCs. With the new AM1 initiative, AMD finally addresses this issue and from now on will offer low-cost APUs in "socketed" AM1 form-factor, whereas its platform partners will provide mainboards featuring FS1b sockets.
The new accelerated processing units in AM1 form-factor will be available under good-old Athlon and Sempron brands. Those new APUs will be based on Kabini design that features two or four AMD Jaguar x86 cores, AMD Radeon graphics engines with GCN architecture, DDR3 memory controllers and so on. Like other Kabini-based platforms, the AM1 supports two Serial ATA-6Gb/s, two USB 3.0, eight USB 2.0, PCI Express 2.0 x4, DisplayPort, HDMI and D-Sub support.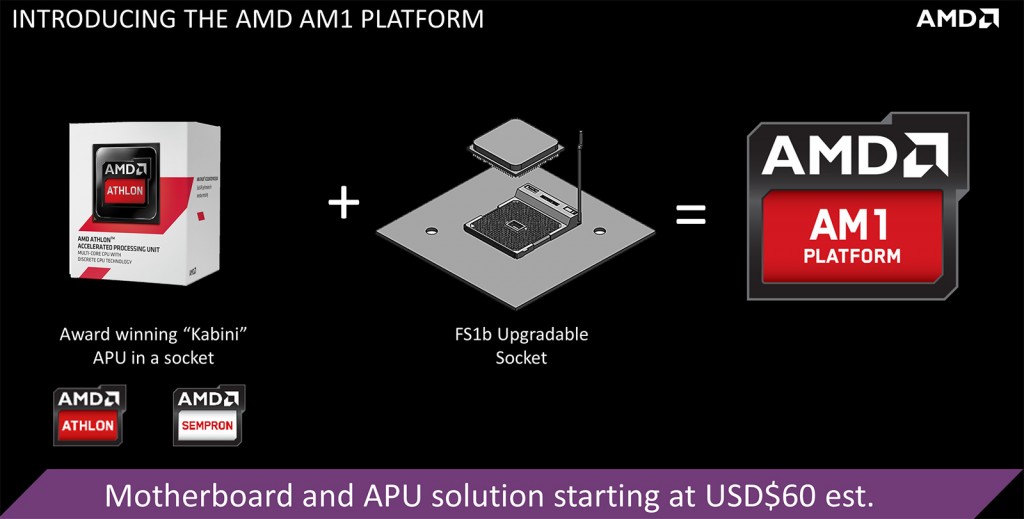 "AMD continues our APU technology leadership by introducing the AM1 platform with 'Socketed Kabini', an APU designed for the mainstream market," said Bernd Lienhard, corporate vice president and general manager of client business unit at AMD. "The AM1 platform gives us a great opportunity to deliver a flexible infrastructure environment, and provides a multitude of options for consumers and system builders looking for upgradeability packed into an extremely affordable solution."
The AM1 platform provides certain upgrade paths for end-users, however, the socketed low-cost/low power chips are mainly needed to grant additional flexibility to system makers, who may need different mainboards, cooling systems and chips for various projects.
Availability of "Kabini" desktops and components are slated to be on-shelf in select regions beginning early April, with global availability expected on April 9. AMD claims that leading mainboard makers, such as Asrock, Asustek Computer, Biostar, ECS, Gigabyte and MSI will offer AM1 motherboard makers at variety of price-points.
KitGuru Says: While it is good to have an upgradeable system, it should be noted that in many cases upgrades are a myth. Nowadays a 100MHz – 300MHz clock-speed boost of a higher-end microprocessor does not provide any tangible performance benefit. In order to get a decent speed boost, one needs to switch to a next-gen CPU/APU, which in many cases means a new socket and a new mainboard.