OCZ Storage Solutions, a subsidiary of Toshiba Corp., on Tuesday introduced its new Z-Drive 4500 PCIe family of solid-state drives designed for enterprises. The new series delivers even higher performance in comparison to OCZ's Z-Drive R4 and takes advantage of multiple new technologies.
The new OCZ Z-Drive 4500 PCIe solid-state drives are available in 800GB, 1.6TB and 3.2TB capacities and are based on Toshiba's NAND flash memory made using 19nm process technology. The new Z-Drive 4500 family is driven by OCZ's proprietary virtualized controller architecture (VCA) and LSI SandForce SF-2582 controllers for maximum performance and reliability. The SSDs support power loss data protection that guards in-flight write operations in the event of a sudden power failure, 128-bit AES encryption, temperature sensing and so on.
According to OCZ, based on SNIA test methodologies, the new family of PCIe-based SSDs deliver industry-leading sustained performance for MLC-based PCIe edge cards including maximum read bandwidth of up to 2900MB/s, maximum write bandwidth of up to 2200MB/s, random 4K block read throughput of up to 252 thousand input/output operations per second (IOPS) and random 4K block write throughput of up to 76 thousand IOPS.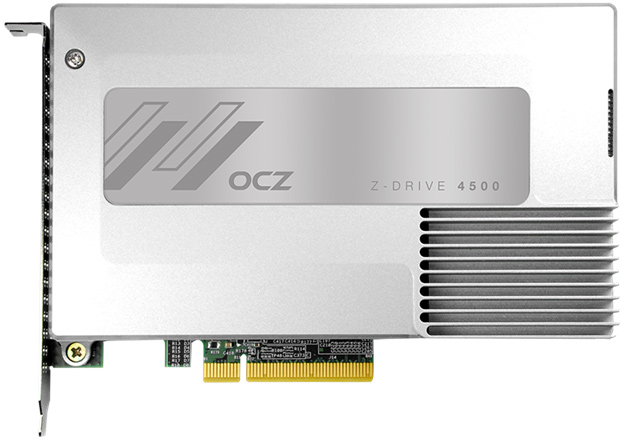 Just like other OCZ's enterprise SSD solutions with PCI Express interface, the new drives can be used as both storage and cache drives. Each model within the Z-Drive 4500 series is integrated with OCZ's new Windows Accelerator (WXL) software, a flash management and caching solution for Microsoft Windows Server applications.
"Our new Z-Drive 4500 Series represents a consistency with our enterprise strategy as we continue to refine and introduce new products across key interfaces like PCIe using the latest NAND flash process geometry and architectural changes that enable a more efficient design," said Daryl Lang, senior vice president of product management for OCZ Storage Solutions. "By integrating our new WXL Software into the Z-Drive 4500 platform, we are delivering a complete acceleration, caching and flash management solution to the enterprise PCIe storage market with advanced capabilities and a robust architecture as well."
The new Z-Drive 4500 PCIe edge cards advance the Z-Drive series feature-set by supporting higher performance and a more robust architecture that delivers OCZ's most advanced PCIe SSD family to date. The new SSDs will be available in full-height/half-length (FHHL) format. Pricing depends on the actual configuration.
KitGuru Says: It looks like despite the acquisition by Toshiba, OCZ has not decelerated its roadmap and continues to introduce new solid-state drives.