Last week, Samsung unveiled its next-generation Exynos 9 silicon, built to power its upcoming line of smartphones and tablets. Rather than following 7nm fabrication like its competitors, Samsung instead seems to have perfected its 8nm process, set to debut with the Exynos 9810 and 9820.
While the former is set to power mid-range devices, the Exynos 9820 features an octa-core design in a tri-cluster setup similar to Huawei's Kirin 980. That's to say that two custom cores will do the heavy lifting, focusing on high-power, two Cortex-A75 cores will cater to medium power applications and four low-power Cortex-A55 cores handle general tasks.
"As AI-related services expand and their utilization diversify in mobile devices, their processors require higher computational capabilities and efficiency," vice president of System LSI marketing Ben Hur states, explaining Samsung's newfound focus on Artificial Intelligence. This is shown through the Exynos 9820's neural processing unit (NPU), allowing the on-board AI to perform "tasks around seven times faster than the predecessor."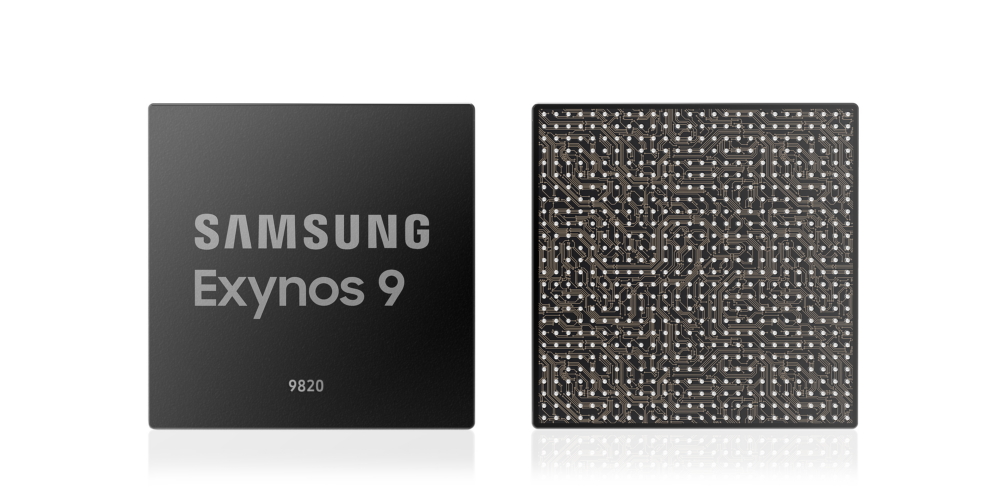 This will undoubtedly prove useful when integrated into the camera, recognising objects and adjusting settings on-the-fly. That being said, it won't necessarily make voice assistants any zippier, but this remains to be tested.
Most chips currently on the market support up to UFS 2.1, but the Exynos 9820 goes one step further by providing support for UFS 3.0. This is twice as fast, allowing for 4K and possibly even 8K recording to be much less of a burden on smartphone storage. High-resolution recording seems to be a focus of Samsung's upcoming flagship devices, as the Exynos 9820 also includes multi-format codec (MFC), which supports encoding and decoding of 4K UHD video at 150 frames per second (fps) and 8K resolution at 30fps.
Alongside an integrated LTE modem capable of 2Gbit/s, Samsung boasts the latest Mali-G76 GPU, which is said to deliver a "40-percent performance boost or 35-percent power savings." Overall, Samsung's benchmarks show a "20-percent single-core performance improvement" in the Exynos 9820 over its predecessor. Device batteries will also fare better with a sizeable 40-percent jump in power efficiency.
On the downside, the Exynos 9820 does not house native 5G support. There are rumblings in the tech world that Samsung is developing a Galaxy S10 with 5G capability, which is likely to rely on a second modem. Samsung is said to also be in the process of testing its own 7nm fabrication but this might not be ready before the smartphone hits the market.
KitGuru Says: So far, it's looking like the Exynos 9820 is set to outdo Android's current top-dog, Huawei's Kirin 980. Still, this has yet to be put to the test. Are you looking forward to Samsung's next-generation of devices?