AMD's Zen3 core architecture is already available on Ryzen and EPYC processors, but we are still waiting for AMD to release its Zen3 HEDT processors. We may not have to wait much longer, as new reports claim that the long-awaited Threadripper 5000 series will launch next month. 
Codenamed "Chagall", the Ryzen Threadripper 5000 series' processors will share some features with their predecessors, the Ryzen Threadripper 3000 series. As per MoePC (via VideoCardz), these features include support for DDR4 memory and PCIe 4.0, a 280W maximum TDP, and an 8+1 MCM design (same core and thread count).
As for the changes, the upcoming AMD HEDT CPUs should be based on the 7nm process node using Zen 3 cores instead of Zen 2 cores and 32MB CCXs and not 16MB CCXs. There are some rumours about these processors using Zen3+ cores, but it looks like that won't be the case.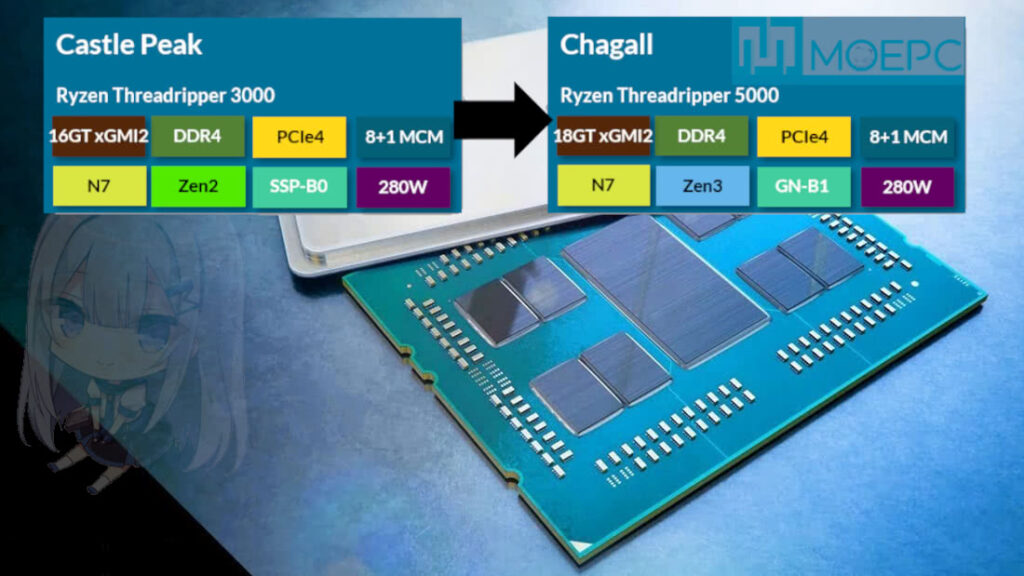 Image credit: MoePC
These new Threadripper chips will also use an Inter-Chip Global Memory Interconnect (xGMI) at 18 GT/s, beating out the one used in current-gen Threadripper, which runs at 16GT/s. This was expected, considering Zen3 EPYC processors use an xGMI at 18GT/s too.
The Ryzen Threadripper 5000 series processors are rumoured to release in August. The currently available TRX40 motherboards should receive an updated BIOS to support the new processors soon.
KitGuru says: Planning to build a new workstation? You might be better off waiting a bit longer for AMD to release the new Ryzen Threadripper 5000 series. You may even end up saving a bit if you already own a TRX40 motherboard.