Many were surprised when AMD announced that the Ryzen 7 5800X3D wouldn't be overclockable. Although users can overclock the infinity fabric and the memory, officially, the chip itself can't be. However, users can bypass this block through BCLK overclocking and we're already starting to see some interesting results. 
TSAIK (via Wccftech), MSI's team of overclockers, managed to push the Ryzen 7 5800X3D via BCLK overclocking to 5141.78MHz at 1.2V. The processor was overclocked on an MSI MEG X570 Godlike (1.G5T2 BIOS using AGESA 1.2.0.6 C) equipped with 8GB DDR4-2400 memory with BCLK of 113MHz on a 45.5 multiplier. At the moment, the entry hasn't been verified.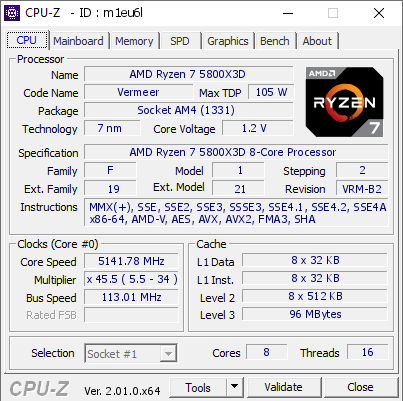 Image Credit: CPU-Z Validator
The new entry is considerably above the current world record (validated), which Claviger holds. The American overclocker was able to push a Ryzen 7 5800X3D to 4778.69MHz (BCLK of 107MHz on a 44.5 multiplier) on a ROG Crosshair VI Extreme motherboard with an extremely low 0.643V. Despite having a higher-clocked chip, TSAIK didn't submit the entry to HWBot.
The BIOS used for the 5.15GHz entry is available for everyone, but rumours claim there's an unreleased BIOS that offers improved overclockability. For now, it's unclear if it unlocks the overclocking options for the CPU.
Discuss on our Facebook page, HERE.
KitGuru says: Are you planning on getting the Ryzen 7 5800X3D? Will you BCLK overclock it and see how far you can push it?