A web-site has published a slide that reveals AMD's graphics products lineup that will be available later this year. The image does not only unveil the names and positioning of AMD's upcoming Radeon solutions, but also code-names of the new graphics processing units from the company.
If the slide published by VideoCardz is genuine, then AMD's new lineup of graphics adapters will consist of seven new models based on various graphics processing units. The flagship products based on the code-named "Fiji XT" and "Fiji Pro" graphics processors will not formally belong to the Radeon R9 300-series. Previously it was reported that the new boards will carry the Radeon Fury brand-name. It is noteworthy that the new Radeon Fury graphics cards based on the "Fiji" GPUs will be available a little later than the members of the Radeon R9 300-series, which may indicate that the new flagship products will not hit the market right after formal announcement of the 16th of June.
The high-end Radeon R9 390 and R9 390X will be based on the "Grenada" graphics processing units, which are claimed to be improved versions of the "Hawaii" chips with higher clock-rates and revamped architecture. Both boards will carry 8GB of memory and will cost $329 and $389, respectively, according to WccfTech. Higher clock-rates of GPU and memory will help the new cards to offer performance that will be higher than that of Nvidia's GeForce GTX 970, but it is unclear how the Radeon R9 390-series will compare against GeForce GTX 980.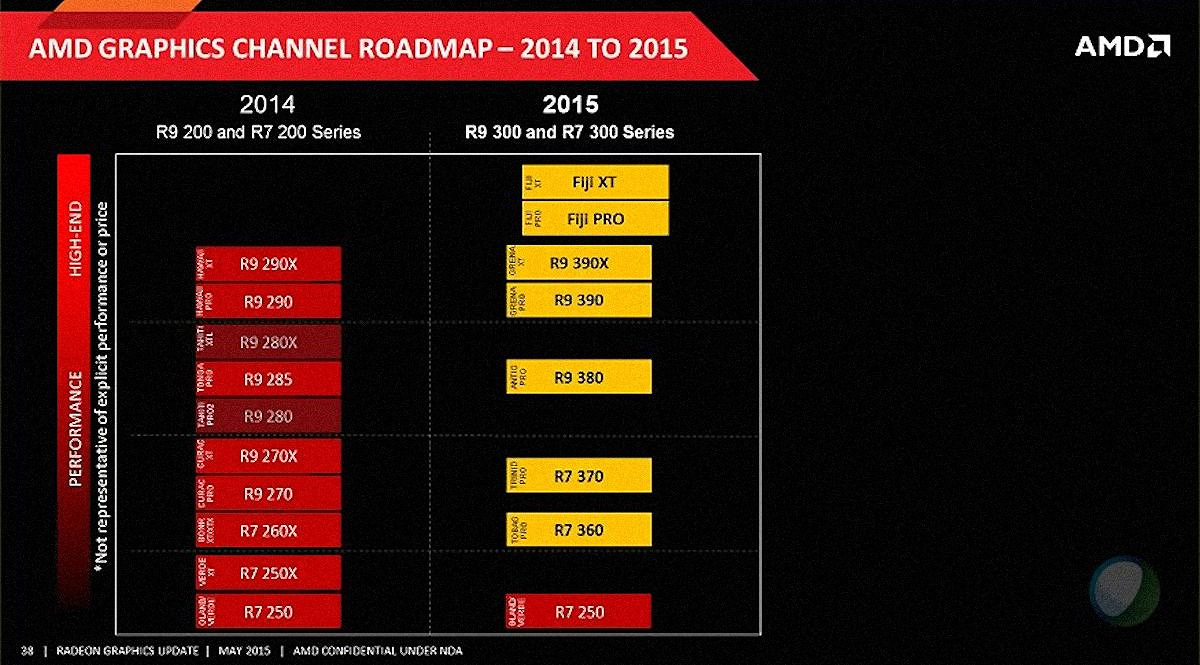 AMD also plans to introduce Radeon R9 380 with 4GB of memory based on the code-named "Antigua" chip also known as "Tonga Pro". The product is expected to cost $235. In addition, AMD wants to offer Radeon R9 380 with 2GB of memory for $195.
AMD also intends to roll-out Radeon R7 370 and Radeon R7 360 based on the "Pitcairn" and "Bonaire" graphics processors, which have been available for years. The outdated GPUs will address $100 – $175 market segment. Keeping in mind that graphics boards based on the "Pitcairn" and "Bonaire" GPUs have been available for years, it is unlikely that the new Radeon R7 will actually get popular. People who wanted them have already bought such boards.
AMD did not comment on the news-story.
Discuss on our Facebook page, HERE.
KitGuru Says: Although AMD's Radeon R9 390-series graphics adapters may actually be rather competitive, it is obvious that they are late. AMD needed to respond to Nvidia's GeForce GTX 970 and 980 last September, but decided to cut prices of existing solutions, not offer anything new.