At a press conference at the Computex trade-show Advanced Micro Devices has officially demonstrated its first graphics processing unit with high bandwidth memory (HBM) code-named "Fiji", which is set to power AMD's next-generation flagship graphics card known unofficially as the Radeon Fury X. But while the company did show its "Fiji" chip, it did not want to show the "Fury" card, reports Leo Waldock, a KitGuru editor, from Taipei.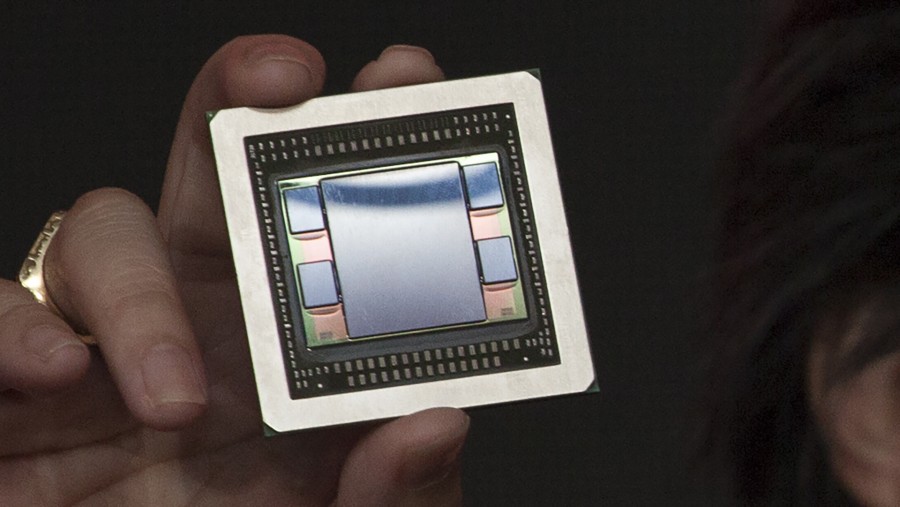 Leo arrived at Nangang at 9am and was told the floor was closed to the Press until 9:30am. He took the opportunity to head up to Sapphire, who were in a separate room, so he could say hello and grab a chair. At the Sapphire booth, Leo bumped into Ron Myers, Corporate Vice President of Corporate Marketing at AMD. Ron is a big guy in every sense of the word and only slightly intimidating.
Earlier AMD waved a "Fiji" chip around on stage. They refused to give its name but the unnamed chip had four stacks of HBM so it was "Fiji", no question.
AMD is showing a running and apparently fully working version of "Fiji" to customers but not to the Press, so Leo asked Ron if he might relent. They both knew the other side of the Sapphire NDA door was the card Leo wanted to see, so Leo asked if he could see the card and take photos.
"How about static without performance?" Leo asked.
"No," said Ron, and that was the end of that.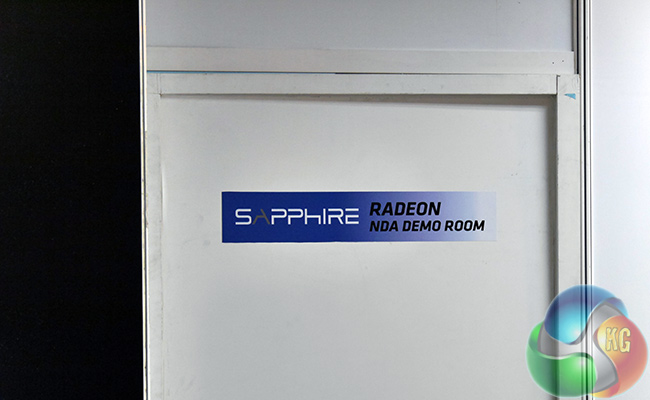 While it was impossible to take photos of the AMD Radeon Fury X, Leo tried to discuss some aspects of the flagship graphics card that only features 4GB of memory (compared to 12GB on Nvidia's GeForce GTX Titan X). His question about the 4*1GB limit was side-stepped so it is unclear whether AMD could install 8GB of HBM if they choose. A natural guess is they cannot. Ron Myers assured that 4GB of high bandwidth memory is plenty for 4K gaming so it is not just a question of the amount of memory, but also the speed and bandwidth. Put it another way, the requirement for 8GB (or whatever) is in combination with the current, slower bandwidth.
Apparently, AMD wants to build the marketing impetus for the 16th of June, when the first reviews hit the Web, or the 24th, when the graphics cards hit the stores. The problem is, many aspects about the graphics board are already known: it has 4GB of memory, it has short printed circuit board, it requires two 8-pin PCI Express power connectors, it is power hungry (may consume up to 375W of power), it uses hybrid liquid cooling system, etc. The main intrigue about the AMD Radeon Fury X graphics board is its performance. Obviously, a static image of the product cannot reveal any performance details. Moreover, an image of the graphics card itself was recently published by Johan Andersson, technical director of Frostbite at Electronic Arts, in a Twitter post.
Discuss on our Facebook page, HERE.
KitGuru Says: It is hard to understand why AMD is not prepared to show "Fiji" to the Press. During the conversation Leo called the chip both "Fiji" and "Fury" and Ron did not blink, so we know that it is the correct name.