Advanced Micro Devices' next-generation graphics processing unit is still several months away, but it looks like it is worth waiting. According to unofficial information from SiSoft Sandra benchmark's database, the forthcoming GPU features unprecedented compute horsepower as well as uses multi-layer high-bandwidth memory with extreme bandwidth.
If the listing in Sandra's database is correct and really describes a prototype of the Radeon R9 390X "Fiji XT" graphics card, the next-generation offering from AMD will feature 4096 stream processors (SPs) (which, in case of the GCN 1.2 architecture, means 64 compute units and 256 texture units) and 4096-bit memory bus. The memory sub-system will rely on SK Hynix's stacked high bandwidth memory (HBM) chips with 1024-bit input/output interface (compliant with the JESD235 standard [and, possibly, with the Wide IO protocol]).
The graphics card allegedly sports only 4GB of memory since the first-generation HBM features 2Gb DRAM dies and comes in 1GB memory devices, reports Wccftech. Only the second-generation HBM is expected to use 8Gb dies and therefore support 4GB and 8GB configurations.
If AMD's Radeon R9 390X actually uses four first-generation HBM DRAM chips with 4096-bit memory bus operating at 1.25GHz, then the actual memory bandwidth the graphics card will sport will be whopping 640GB/s.

With 4096 stream processors and amount of bandwidth never before seen on a single-chip graphics cards, the Radeon R9 390X will be the fastest graphics adapter on the market. In fact, with such extreme amount of stream processors, it will clearly leave behind any graphics solution based on Nvidia Corp.'s GM200 graphics processing unit.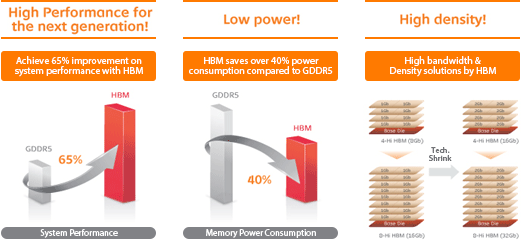 While performance-wise the Radeon R9 390X "Fiji XT" seems to be very powerful, it remains to be seen how expensive will it be. New types of memory tend to cost a lot. Moreover, given that memory devices have to be placed on the same piece of substrate with the GPU, the whole graphics card has to be redesigned.
AMD did not comment on the news-story.
Discuss on our Facebook page, HERE.
KitGuru Says: While in general listing in various benchmarks' databases tend to be rather accurate, it is necessary to take them with a grain of salt. Moreover, keep in mind that for the second time in one week we get juicy details about next-generation graphics processing units from SiSoft Sandra's database, which seems a bit suspicious.