Asetek, one of the world's largest producers of sealed liquid-cooling solutions, has announced that the U.S. Patent and Trademark Office (USPTO) has granted a patent on the company's thermal interposer liquid cooling system designed for cooling graphic processing units (GPUs). Thanks to the patent the company will be able to ensure that no similar competing solutions emerge on the U.S. market, which basically means will not emerge at all.
Closed-loop liquid-cooling systems have existed for many years, but only recently they became popular on the mainstream market. Nowadays makers of microprocessors bundle liquid-cooling solutions with their chips, boutique PC makers use them for their high-end systems, loads of computer hardware suppliers offer their sealed liquid coolers and AMD recently adopted an Asetek-designed hybrid cooler for its dual-chip Radeon R9 295X2 graphics card. Apparently, Asetek sees huge potential of closed-loop liquid coolers for graphics adapters.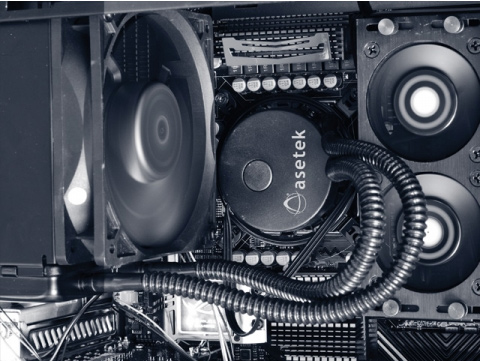 "As seen in the recently announced AMD Radeon R9 295X2, the graphics cooling market is one that we see as having tremendous growth potential for our desktop business," said André Sloth Eriksen, Founder and CEO of Asetek. "We continue to see increasing interest from GPU and graphics card manufacturers due to increased power use and demands for lower acoustics. Given this interest, it is possible that the GPU cooling business could rival our CPU cooling business in the coming years."
Traditional closed-loop liquid cooling systems for graphics cards rely on water-blocks that cover the GPUs, whereas the circulating water takes the heat away. Custom liquid-cooling systems sometimes feature full-cover water-blocks that cover not only GPUs, but also memory and voltage regulator module (VRM). Since modern graphics cards consume extreme amounts of power, their VRMs usually heat more than graphics processors themselves, hence, it is crucial to cool them down.
Thermal interposer liquid cooling system integrates one or more heat conducting pipes that are configured to transfer heat from the thermally conducting planar body towards the thermal discharge region. Basically, integrated heat-pipes transfer heat from the VRMs to the water-block that usually covers the GPU. This may potentially reduce efficiency of sealed cooling solutions since water-blocks will have to take away more heat than today, but it will help to better cool-down graphics cards in general since VRMs do need advanced cooling these days.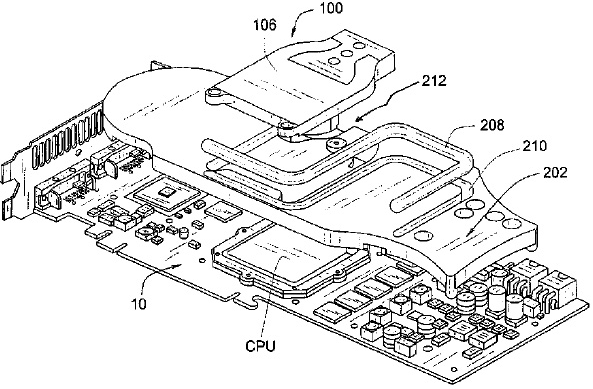 The patent in the U.S. increases Asetek's chances to become an exclusive supplier of closed-loop liquid cooling systems to AMD, Nvidia and their partners when high-end graphics cards require such solutions. Keeping in mind that coolers for graphics adapters have been getting more and more sophisticated in the recent years, sooner or later graphics cards makers will have to use thermal interposer liquid cooling systems, which is what Asetek will supply them.
Discuss on our Facebook page, HERE.
KitGuru Says: Asetek is probably the world's No. 1 supplier of closed-loop liquid-cooling solutions. Looks like it has all chances to become the only maker of thermal interposer liquid cooling systems going forward…