During a special Battlefield 4 gaming event, Overclockers UK on Saturday kicked off a promo campaign that will help gamers to obtain a high-performance Radeon R9 290 graphics card from XFX at a significantly discounted price and with free shipping (see promo code below). If you were planning an upgrade of your graphics sub-system, this might be your chance to do it without paying too much.
The XFX Radeon R9 290 graphics card is based on the code-named "Hawaii" graphics chip with 2560 stream processors, 160 texture units, 64 raster operations pipelines and 512-bit memory bus. Although the "Hawaii" graphics processing unit is one year old, it supports all modern technologies, including DirectX 11.2, OpenGL 4.3, OpenCL 1.1 and delivers excellent performance in video games. The XFX graphics card uses a custom cooling system that should be quieter than AMD's reference cooler. All AMD Radeon R9 290-series graphics cards come with three free AAA video games.
KitGuru's recent review of Nvidia's GeForce GTX 970 demonstrated not only advantages of the latter, but also the fact that that the one-year-old Radeon R9 290 is still a great performer.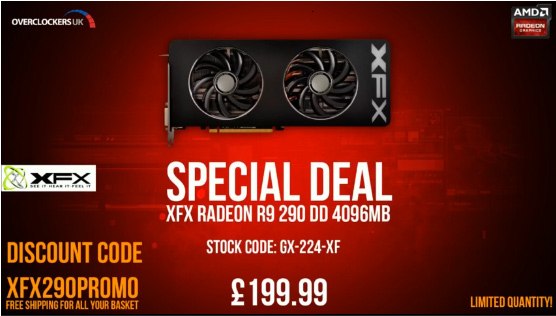 In a bid to get the XFX Radeon R9 290 4GB graphics card for £199, one needs to order it from Overclockers UK and enter the "XFX290PROMO" promo code to get the low price and free shipping for the whole order.
The announcement about the bargain was made by Roy Taylor, corporate vice president of global channel sales at AMD. The Battlefield 4 event was hosted by Mark Purdy, marketing manager of Overclockers UK.
Discuss on our Facebook page, HERE.
KitGuru Says: If you are in the market for a new graphics board that offers high performance, quiet cooling system and is available at an affordable price, then the offering from Overclockers UK might be just what you need.