SK Hynix, one of the world's largest makers of dynamic random access memory, has initiated mass production of GDDR5 memory that can operate at 8Gb/s data-rate. The new memory chips are already available for graphics cards manufacturers and will be installed on new graphics adapters.
The new GDDR5 memory chips from SK Hynix feature 4Gb capacity (organized as 128M*32) and come in industry-standard 170-ball grid array package. The memory ICs that can operate at 8GHz effective clock-rate are marked as H5GQ4H24AJR-R4C. The new memory devices require 1.55V voltage, which is the highest voltage for GDDR5 components at present.
The GDDR5 memory ICs with 8Gb/s data-rate from SK Hynix will likely be used on graphics cards based on Nvidia Corp.'s upcoming code-named GM200 graphics processing units in order to provide the high-performance graphics chip maximum possible memory bandwidth.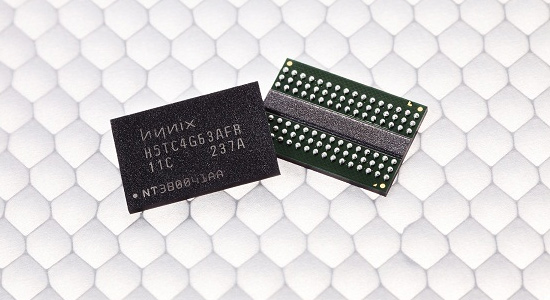 Memory chips from SK Hynix. Image for illustrative purposes only.
It is also likely that at least some makers of graphics adapters will install the 8GHz GDDR5 chips on current-generation graphics boards based on the Nvidia GeForce GTX 980 graphics processors in order to maximize their performance (thanks to 256GB/s memory bandwidth, a 14.2 per cent increase compared to Nvidia's reference design that uses 7010MHz memory) and differentiate from competitors.
Current generation AMD Radeon R9 290X graphics cards feature 512-bit memory bus, which ensures that the GPU gets enough memory bandwidth (320GB/s) even with 5GHz GDDR5 memory.
Next generation AMD Radeon R9 390X "Fiji XT" graphics cards will reportedly use SK Hynix's high-bandwidth (HBM) DRAM compliant with the JESD235 standard that will provide over 600GB/s of bandwidth to the graphics processing unit.
Discuss on our Facebook page, HERE.
KitGuru Says: Keeping in mind that renowned overclockers can push even "standard" 7GHz GDDR5 memory ICs to 9GHz on GeForce GTX 980 graphics cards with the help of liquid nitrogen, imagine what kind of effective frequencies we will see from SK Hynix's 8GHz GDDR5 chips…