This year, AMD is celebrating its 50th year in business. To celebrate the milestone, AMD is releasing 'Gold Edition' versions of the Ryzen 7 2700x CPU and Radeon VII graphics card.
These Gold Edition releases don't appear to come with any particular performance benefits like higher clock speeds. Instead, AMD will be hoping to draw in purchases with other goodies. For starters, both the Ryzen 2700x and Radeon VII will come in commemorative golden packaging. AMD CEO, Lisa Su, will have her signature printed on to the Ryzen 7 2700x, meanwhile the Radeon VII will have a red shroud.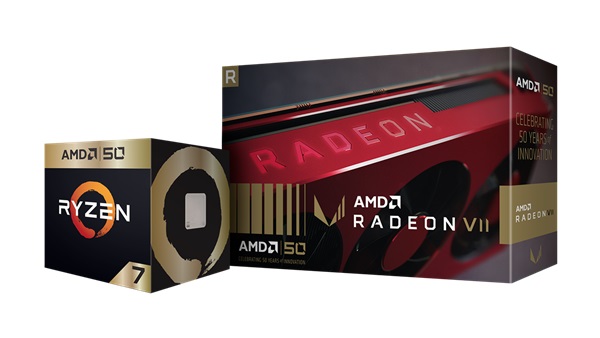 Fancy packaging aside, Gold Edition Ryzen and Radeon products will also include the 'AMD50' game bundle, which includes a free copy of The Division 2 Gold Edition and World War Z for PC. They will also come with an AMD50 tribute t-shirt.
The Gold Edition Ryzen 2700x will be available from select retailers for $329, while the Radeon VII will be available for $699. If you are looking to pick up a regular Ryzen CPU or Radeon GPU, then between the 29th of April and 8th of June, you will be able to get up to $150 off at select retailers as part of the 50th anniversary sale.
Here in the UK, AMD's 50th anniversary products will be available through Overclockers UK.
KitGuru Says: This year should be an interesting one for AMD. Not only will we be seeing Ryzen 3rd Gen on 7nm later this year, but we may also get our first look at Navi GPUs before the end of 2019. In the meantime though, it sounds like there are going to be some good deals on current-gen CPUs and GPUs. Are any of you planning on picking anything up on sale? Or even one of the two Gold Edition products?