Many of you will remember that back when AMD launched the R9 200 series, the flagship R9 290 and R9 290x had a bit of a heat issue thanks to the hot running chips and lacklustre blower-style cooling. Since then, AMD has tweaked its chips and launched the R9 300 series, using more efficient Grenada cores, due to this, XFX is planning to bring the blower design back for the R9 390/x and R9 380.
Shannon Piel from XFX confirmed that blower style coolers will be returning to the higher-end AMD line up on Twitter, posting a picture of an R9 390x using the reference cooler: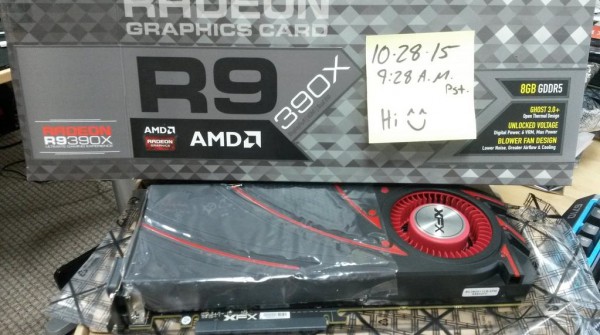 XFX has decided to retain the same cooler design as the previous 200-series cards, rather than use the updated version AMD began showing off earlier this year. The new version features a cleaner look, with the red lines shown above removed in favour of an all black look and Radeon branding.
Now we just have to wait for reviews to hit to see how the new Grenada cores handle the heat compared to the 200-series Hawaii cores. There's no further information as of yet, so we don't have anything on pricing, availability or a release date, but this should be good news for those who prefer the blower style coolers.
KitGuru Says: I'm a big fan of reference design coolers myself, though the R9 290x was a little too much to handle. It will be interesting to see how far temperatures can be knocked down with the new Grenada graphics cores found in the 300-series.