Toshiba Corp. has introduced the world's first hard disk drive with 5TB capacity and 7200rpm spindle speed designed for consumer desktop computers.
This year all leading manufacturers of hard disk drives unveiled HDDs of extreme 5TB or 6TB capacities for enterprise, nearline storage or NAS applications. Such hard drives feature ~5400rpm or 7200rpm spindle speeds and rather extreme prices because of their positioning. Unfortunately, neither Seagate, nor Western Digital, nor HGST have so far introduced desktop-class 5TB HDDs with decent performance designed for consumers.
Toshiba PH3*00U-1I72 family of hard disk drives includes 4TB and 5TB models based on four or five 1TB platters that feature perpendicular magnetic recording (PMR) technology. The new drives sport 7200rpm spindle speed, Serial ATA-6Gb/s interface and 128MB of cache to maximize performance. Toshiba declares average seek time of 10.5ms for its new HDDs.
Toshiba's new 4TB and 5TB hard drives with 7200rpm spindle speed were developed for consumer desktop computers in mind and therefore are not designed to be expensive. At present Toshiba sells its 4TB HDD for $239 and its 5TB HDD for $319 online in the U.S.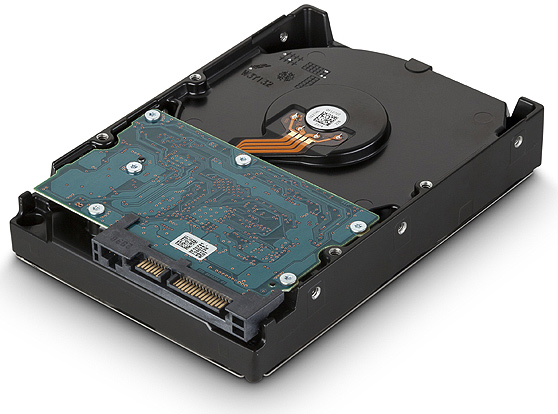 While Toshiba's new high-capacity hard drives are supposed to be the most affordable 5TB 7200rpm HDDs in the market, they are not. Newegg, a leading online store in the U.S., offers HGST Deskstar NAS 7200rpm 5TB and 4TB hard disk drives for $249 and $184, respectively. Desktop NAS drives are optimized for reads, writes and operating in RAID environments, which makes them quite good for desktop usage in general. In fact, keeping in mind that Toshiba uses many Western Digital's technologies for its 3.5" HDDs, it is highly likely that HGST Deskstar NAS and Toshiba's new drives have a lot in common.
While formally the latest 5TB HDDs from Toshiba are the world's first consumer-class 7200rpm drives of such high capacity, in a bid to make its new PH3*00U-1I72 family of hard disk drives popular, Toshiba will need to slash prices of these products in the short-term future. Since the drives are not based on enterprise-class chassis or technologies, it should not be too hard for Toshiba to make them more affordable.
You can read KitGuru's high-capacity 5TB and 6TB HDD roundup HERE.
Discuss on our Facebook page, HERE.
KitGuru Says: If you live in the U.S. and are planning to buy a high-capacity HDD, then it makes sense to wait till Black Friday and see what retailers have to offer then. If you are in Europe or the U.K., wait till Toshiba's new HDDs arrive. Once there is more competition on the market of high-capacity 7200rpm drives, prices will go down.