Synology is launching its brand new HAS5300 series 3.5″ SAS hard drives this month to meet growing demand for high-capacity and resilient storage systems. There are three HDDs, offering up 8TB to 16TB of storage.
Available in 16TB, 12TB, and 8TB models, the HAS5300 drives are the latest addition to Synology's range of enterprise hard drives. With support for 550 TB/year workloads and rated for a 2.5 million hours mean time to failure (MTTF), HAS5300 SAS drives are built to deliver consistent performance in the most intense environments. Persistent write cache technology further helps ensure data integrity for mission-critical applications.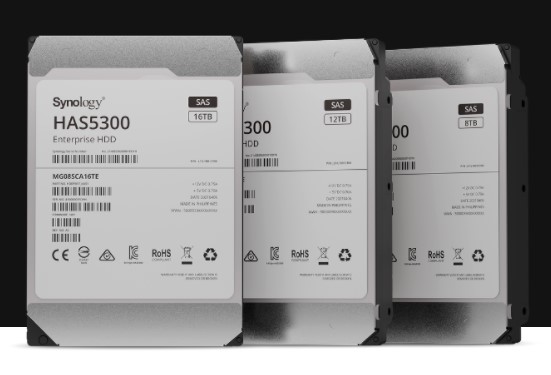 As mentioned earlier, these are SAS hard drives, so enterprise customers can scale up to 180 drives on a high-performance storage system, such as the Synology SA series. You can see other specifications for the Synology HAS5300 hard drives in the table below:
 
HAS5300-8T
HAS5300-12T
HAS5300-16T
Interface
SAS 3.5"
Capacity
8 TB
12 TB
16 TB
Class
Enterprise
Cache Buffer
256 MiB
512 MiB
Mean Time to Failure (MTTF)
2,500,000 hours
Max. Sustained Transfer Rate
230 MiB/s
242 MiB/s
262 MiB/s
Warranty
5-year limited warranty
Speaking on the launch, Penny Weng, Product Manager at Synology, said: "The drives deliver up to 274 MB/s sustained data transfer speeds, making them the ideal choice for enterprises that require maximum performance and reliability. Whether you are performing large-scale video surveillance, multimedia post-production, or other high-volume processes, the HAS5300 drives deliver consistent enterprise-grade performance."
You can learn more about the Synology HAS5300 hard drives, HERE.
KitGuru Says: What do you all think of the latest storage drives from Synology?