If you're heading to the Multiplay Insomnia i52 LAN party next week, then make sure you say hi if you spot us wandering around. On top of that though, you're probably going to want to stop by the YoYotech booth too, as it's teaming up with MSI to offer some show floor discounts and there's plenty of prizes to win too.
MSI will be offering giveways for the best large-scale jenga players on each day and there's a League of Legends tournament to win tickets to the i53 LAN, with professional gamers Team INFUSED on hand to offer advice for you to improve your gameplay. You can even take a crack at them if you like, though don't expect to last too long.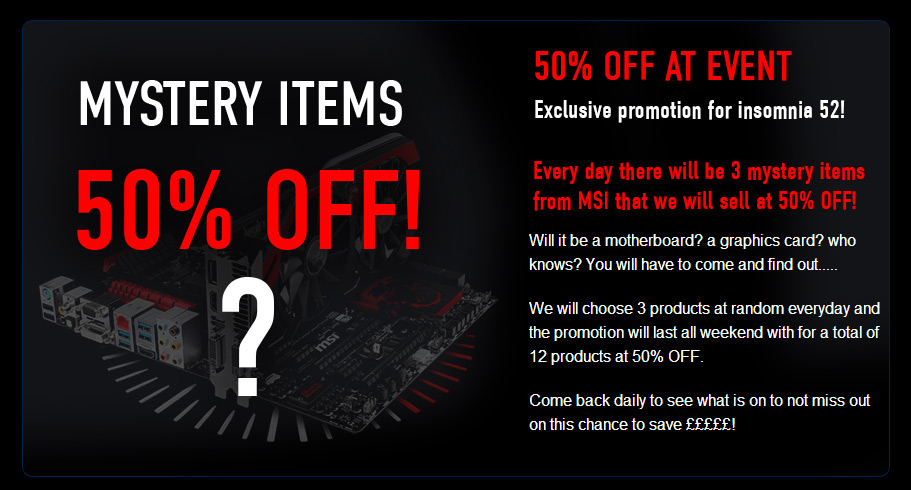 MSI and YoYotech will also be showing off a pair of GT Omega PRO racing cockpits playing the beautiful Arsetto Corsa. If you set the fastest lap record on the day, you'll walk away with a brand new MSI graphics card. It will cost you a pound to set a lap, but all proceeds go to the Help for Heroes charity.
All the while you're gaming away, products on the stand will be discounted up to 50 per cent from their standard retail pricing, so even if you don't walk away with many freebies (though expect lanyard and tshirts to be given out by someone), you can get yourself a bargain.
KitGuru Says: I'll be wandering around Friday, but if any one fancies trying me at a game of Age of Empires II on Saturday, put the word out. I'm down.