Left 4 Dead makers Turtle Rock, has been a little quiet about its upcoming man vs alien hunting romp, Evolve as of late, which is quite bizarre after weeks of massed of hype and promotion earlier this year. However today we're getting our latest look at the game, this time with a new map, new hunter combinations and dynamic weather to make tracking the beast down that bit harder.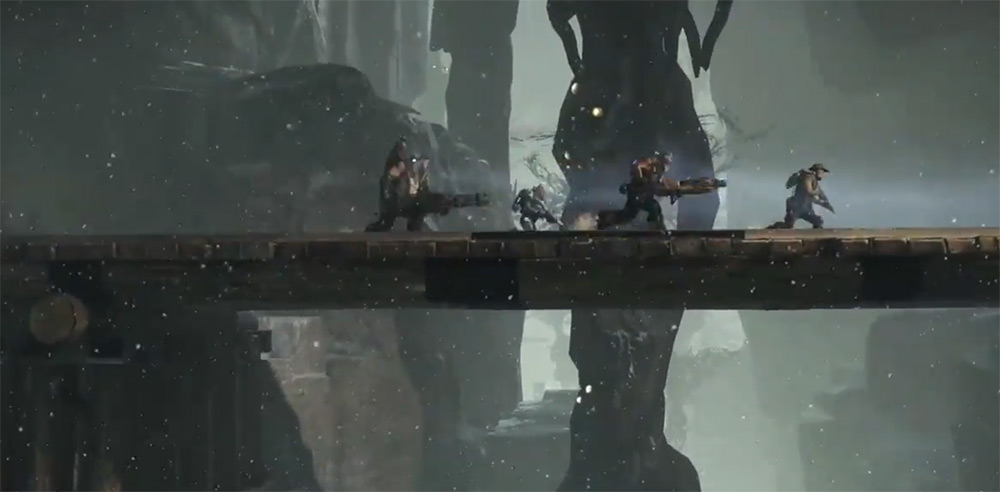 The map is called the Distillery, so expect some drink themed gags from wittier hunters
In this trailer we get to see familiar faces with regards to the hunters, but this time around someone's played mix and match and the combination of abilities shows off some of Evolve's versatility and gameplay variety. Expect a decent meta-game when this hits later this year.
[yframe url='http://www.youtube.com/watch?v=_N-7AbqjgS4′]
The monster this time around is the Kraken, facing off against an all male team featuring Hyde as assault, Griffin as trapper, Lazarus as the medic and Hank as support. That means instant revives, flame throwers, sound spikes and a personal shield generator; an interesting combination of abilities that we've not seen before.
The map they're fighting in is a little different than before. While there's plenty of cliff faces and dark areas to hide in, it's snow covered and features brand new wildlife once again. The gameplay is similar to what we've seen before but it's hard to make out much in the short bit we see.
Evolve was recently pushed back to a February 2015 release, on Xbox One, PS4 and PC, with an open beta starting in January.
KitGuru Says: What do you guys think of the new trailer? I had a lot of fun playing Evolve back at i51 earlier this year. Have any of you had a go yet?