If you have a camera or smartphone that is constantly running out of storage space, forcing you to swap out for another card, then Sandisk's latest release will be right up your street. It's a new, record breaking microSD card, with a whopping 128GB capacity.
Designed with Android tablets and smartphones in-mind, the new Sandisk Ultra card is microSDXC compiant and therefore faster than your average microSD solution. "The new SanDisk Ultra microSDXC card again demonstrates how SanDisk continues to expand the possibilities of storage so that consumers can benefit from our latest technology advancements," said Susan Park, director, retail product marketing, SanDisk. "With 128GB of removable storage, consumers will enjoy the freedom to capture and save whatever they want on a smartphone or tablet, without worrying about running out of storage space."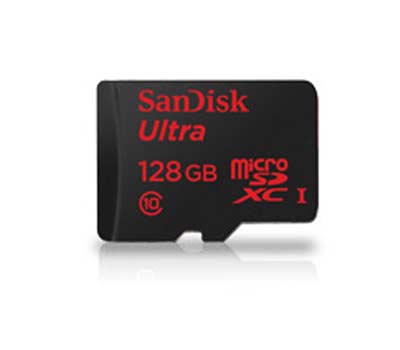 It's also X-Ray proof, waterproof and shock proof 
To achieve this impressive storage capacity, Sandisk developed a manufacturing technique that vertically stacks the memory dies that make up the SD card's backbone, each memory chip thinner than a human hair.
Announced and debuted at the Mobile World Congress in Barcelona today, the new microSDXC UHS-I card from Sandisk, will retail at $150 in the US. UK pricing has yet to be announced.
KitGuru Says: 128GB is more than most people will need, but for professional photographers or HD video producers, it'll be the perfect addition for any hardware that can't stream to a networked hard drive.