JEDEC, a leading stanard setting organization, this week announced the first standards for support of "hybrid" memory modules that fit into DDR4 DRAM memory slots, but contain NAND flash memory. Such non-volatile dual in-line memory modules (NVDIMMs) will be used for ultra-high-performance storage devices as well as for ultra-secure DRAM solutions.
The first two versions of these hybrid modules are the NVDIMM-N, which combines DRAM and NAND flash where the flash provides backup and restore of all DRAM for reliable data persistence through power failure; and the NVDIMM-F, which provides directly addressable NAND flash which is accessed as a block oriented mass storage device. NVDIMM-F can enable ultra-high-performance solid-solid-state storage drives for use cases such as write caching, metadata storage and other.
The non-volatile DIMMs use 288-pin form-factor of standard DDR4 modules, plug into standard dual in-line memory module slots of industry-standard server and storage platforms and appear like a DDR4 SDRAM to the system controller, yet contain non-volatile (NV) memory chips, such as NAND flash. NVDIMM modules can share memory channel with standard DDR4 SDRAM modules.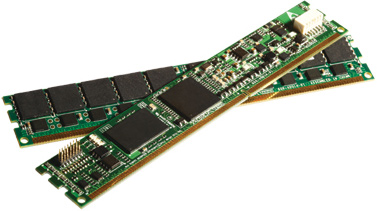 "The introduction of hybrid memory modules into system platform architectures adds new levels of functionality to the computer memory hierarchy," said Mian Quddus, chairman of JEDEC's JC-45 committee for dynamic random access memory (DRAM) modules. "Non-volatile memory may be used for data persistence, mass storage, and the door is now opened for innovative new applications using the high speed of the DRAM channel. NAND flash is the first non-volatile memory to be incorporated into the channel; however, the industry is poised for other memory types to be included as well. The framework established by JEDEC is flexible enough to allow for a variety of memories to be included under the 'hybrid' umbrella."
The first commercial solutions compliant with JEDEC's NVDIMM specifications are expected to be unveiled late in 2015 or early in 2016.
Discuss on our Facebook page, HERE.
KitGuru Says: Companies like Agiga Technologies, Micron Technology and SanDisk have been offering non-volatile DIMM solutions for several years now. The emergence of an official JEDEC standard for NVDIMM will help other companies to design similar solutions.