Correction: the first version of this news-story stated that the EU plans to ban inefficient PSUs from entering the market. Apparently, this is not correct. The EU only wants inefficient PSUs out of PCs. If someone wants to get a discrete PSU, he or she is free to do it. Cheap PSUs with low efficiency will remain on the market.
In about a couple of weeks' time the European Union is going to ban sales of inefficient power supply units (PSUs) as part of personal computers on its territory. Antec, a leading maker of PSUs, said this week that its products already comply with the new regulations.
Like many other official organizations these days, the European Commission wants to reduce the environmental impact of modern technologies. One of the ways to reduce the environmental impact of energy-related products (ErPs) is to regulate their power consumption, which is not really possible as performance requires power and nobody can really limit requirements for performance. However, it is possible to regulate how much energy could be lost.
It is not a secret that power supply units (PSUs) of personal computers do not deliver all the power they consume to components because of natural inefficiencies. For example, if a PSU consumes 1000W of power, it cannot really deliver well over 900W to components because tens of watts are wasted on heat. The difference between the amount of energy that a PSU consumes and delivers defines efficiency of the PSU (i.e. output power divided by its input power). The more efficient a PSU is, the lower amount of energy it loses/wastes. For instance, a 600W-rated PSU with 80 per cent efficiency running at full load would draw 750W from the power outlet and would waste 150W as heat.
In a bid to improve energy efficiency of PC PSUs and therefore limit their impact on environment, Ecos Consulting and EPRI (Electric Power Research Institute) developed the generalized internal power supply efficiency test protocol for desktop PC power supplies back in 2004 – 2006. The general public knows the test protocol under marketing name "80 Plus" for many years now. The PSUs that carry the "80 Plus" badge must pass certain certification tests. There are different types of "80 Plus" certificates that are designed to reveal efficiency of a PSU at different load levels. For example, in order to get the "80 Plus Bronze" certificate, a PSU has to be 81 per cent – 85 per cent efficient under a 20 per cent, 50 per cent or 100 per cent load. However, a PSU carrying the "80 Plus Platinum" badge has to be 89 per cent to 94 per cent efficient under a 20 per cent, 50 per cent or 100 per cent load.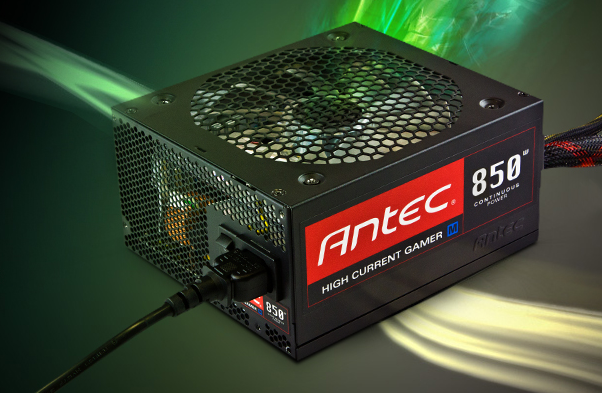 The "80 Plus" certificate is a de-facto industry standard and thousands of PSUs have passed it. While the high-efficiency PSUs are common these days, the European Commission decided to formally ban inefficient PSUs from being sold inside complete systems. On 21st of October, 2009, the EU adopted the directive 2009/125/EC on ecodesign, which establishes a framework for the setting of ecodesign requirements for energy-related products (ErPs). The new system-based energy consumption regulation no. 617/2013 of the 26th of June, 2013, implements the directive regarding efficiency of PC power supply units of computers that are sold in the EU. The regulation comes into effect on the 1st of July, 2014, and then on the 1st of July, 2016, with intensified power consumption metrics.
Under the new regulation, minimum energy efficiency of 82 per cent under a 20 per cent load must be achieved, at least 85 per cent must be maintained under a 50 percent load and 82 per cent energy efficiency must be achieved under a 100 percent load. For example, desktop computers are required to draw less than 5W in sleep mode and less than 10W in idle mode and use an internal PSU with efficiency similar to the "80 Plus Bronze" levels.

This week Antec, a leading manufacturer of power supply units, computer cases and other PC hardware, said that all of its PSUs that are sold in the European Union already fulfill all the regulation no. 617/2013 requirements.
"Offering environmentally-friendly power supplies that deliver reliable and stable power while meeting good efficiency levels has always been an important factor for us at Antec", said Jerome Francois, sales director Europe at Antec. "We are very pleased to announce that Antec PSUs already fulfill these strict requirements."
Discuss on our Facebook page, HERE.
KitGuru Says: It is unlikely that there are many high-quality PSUs on the market that do not comply with the new regulation. Perhaps, some no-name Chinese power supply units will disappear from PCs, but affordable PSUs with good efficiency will clearly be available, moreover, if you just need a separate cheap power supply unit, not a PC, you can just buy one.