The heart of any decent PC build is the power supply. However, when it comes to small form factors, options can be limited. Fortunately, FSP has some high-efficiency options hitting the market this year to help expand the market a bit. These new SFX Dagger supplies offer modularity, DC to DC power design and 80Plus Gold efficiency.
FSP has been specialising in power supplies for a number of years now and the new Dagger series of SFX units will be available in 500W and 600W options. Given how efficient high-end graphics cards and CPUs are these days, that kind of wattage should be more than enough for a powerful gaming rig.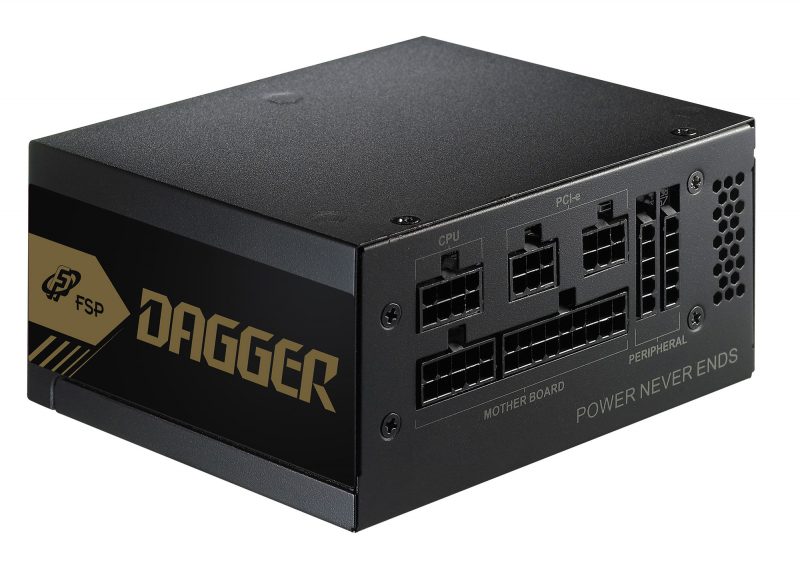 These power supplies are 80Plus Gold rated, so they offer 90 percent efficiency under typical system load. The Dagger series is power efficient but it is also space efficient too as the modular cable design will allow you to use custom cables or only plug in the cables you need to keep your compact build tidy. FSP's bundled cables also use a flat ribbon design to help save space, which will also help with system airflow.
Finally these power supplies use a single12V rail design with DC to DC modules for voltage stability. This should help with unbalanced loads and thanks to the Japanese capacitors, these power supplies should also last a good while. FSP can't quite match industry leaders in warranty though, as these PSUs offer a 5-year warranty.
The FSP Dagger Series is now available in 500W/600W versions with an MSRP of $99/109 USD, respectively.
KitGuru Says: A lot of planning goes into small form factor builds and given the limited space, each component has to be carefully selected. Are any of you guys planning a Mini-ITX build this year? Will you be seeking out an SFX power supply?