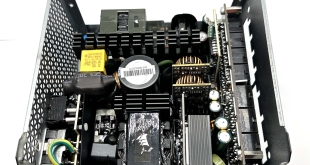 Corsair recently sent us a couple of new power supplies for analysis. Today we look at the latest RM1000e unit which is a fully modular, 80 Plus Gold certified supply at a very competitive price point around £170 inc VAT. This new 2023 unit offers ATX 3.0 certification and is PCIe 5.0 ready.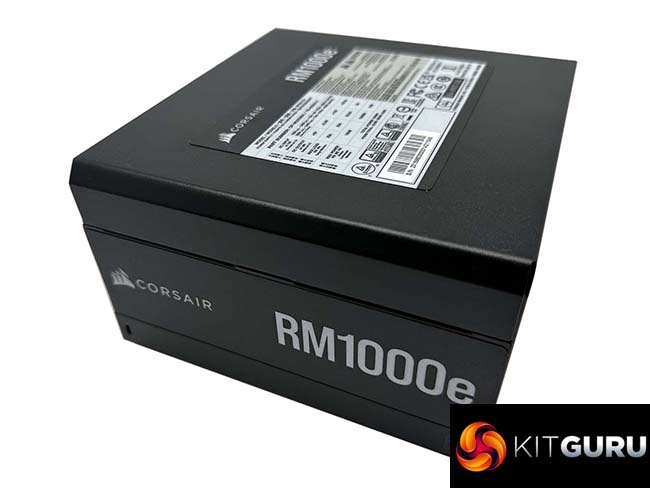 We always recommend our readers to aim for at least 80 Plus Gold Efficiency when considering a new power supply. This particular unit is said to ship with 105C rated capacitors, deliver excellent electrical performance and has the backing of a seven year warranty. While we have no confirmed UK price from Corsair, Amazon UK are already stocking the new 2023 model for £167.95 HERE. (Do be careful, Amazon are still stocking the older 2022 model as well).
Additionally, many people will find this unit appealing as it is a relatively compact 14cm length suited to installation inside a massive cross section of case designs and sizes.
Key Features:
Fully Modular PSU: Reliable and efficient low-noise power supply with fully modular cabling, so you only have to connect the cables your system build needs.
Intel® ATX 3.0 Certified: Compliant with the ATX 3.0 power standard, supporting the PCIe Gen 5 platform and resisting transient power spikes.
Keeps Quiet: A 120mm rifle bearing fan with a specially calculated fan curve keeps fan noise down, even when operating at full load.
105°C-Rated Capacitors: Delivers steady, reliable power and dependable electrical performance.
Modern Standby Compatible: Extremely fast wake-from-sleep times and better low-load efficiency.
80 PLUS Gold-Certified: Steady power output at up to 90% efficiency, and Cybenetics Platinum certified for lower power consumption, less noise, and cooler temperatures.
Zero RPM Fan Mode: For near-silent operation at lower loads.
The Right Fit: Compact 140mm-long casing ensures an easy fit in modern enthusiast PC cases.
Resonant LLC Topology with DC-to-DC Conversion: Provides clean, consistent power and enables use of more 
energy-efficient sleep states.
Seven-Year Warranty: Your guarantee of reliable operation for peace of mind through multiple builds.