Crucial, a division of Micron Technology, on Tuesday introduced a new breed of solid-state drives with increased performance, optimized power consumption and up to 1TB capacities. The new SSDs will power various PCs in different form-factors while offering consistently high performance and energy efficiency.
Crucial's M550 solid-state drives are based on Marvell 88SS9189 controller with proprietary firmware designed by Micron/Crucial as well as 64Gb or 128Gb MLC NAND flash memory chips made by Micron using 20nm process technology. The new SSDs will be available in 2.5", mSATA and M.2 form-factors in various capacities between 64TB and 1TB.
Despite of various capacities, the M550 SSDs offer consistently high 550MB/s read performance and up to 500MB/s write performance. The manufacturer also declares up to 95000 read IOPS and up to 85000 write IOPS for the new family of drives. Maximum typical power consumption of M550 SSDs is just 150mW, which makes them suitable for all types of PCs.
The new Crucial M550 SSDs also employs adaptive thermal management technology that dynamically adjusts power consumption based on system temperature for ultra-small, thermally constrained systems. Additionally, the drives feature onboard power-loss protection and advanced error recovery techniques to protect the integrity of stored data. Finally, the M550 sports proprietary RAIN technology that provides built-in fail-over protection at the NAND level.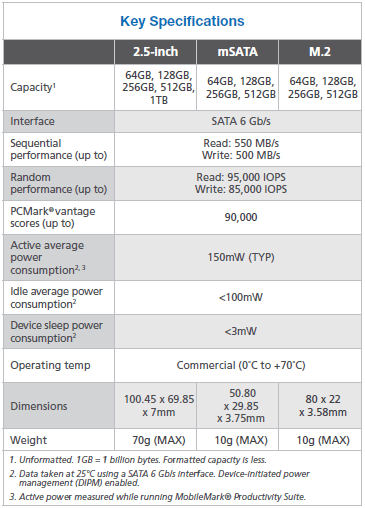 "Marvell is excited to collaborate with Micron to bring a new generation of cutting-edge SSDs to the video market," said Rajan Pai, general manager and vice president of the data storage business unit at Marvell. "The combination of Micron's leadership in NAND flash memory coupled with Marvell's industry-leading 88SS9189 SSD controller creates a powerful solution that fuels exceptional delivery of digital entertainment and video content to meet the next wave of consumer demand."
The Crucial M550 2.5" SSD is offered in 128GB, 256GB, 512GB and 1TB capacities, and it is available for immediate purchase through select global channel partners or direct through Crucial.com.
KitGuru Says: The new drives are based on MLC NAND flash, so do not expect them to be truly affordable. However, thanks to new architecture and the new controller, the M550 provide decent performance that is comparable to leading-edge SSDs available on the market today.