Micron Technology on Tuesday rolled-out its new line-up of solid-state drives for high-performance personal computers and other devices. The new drives feature reduced power consumption, improved write speed and some other advantages compared to previous-generation SSDs from Micron.
Micron's M600 solid-state drives are based on 128Mb NAND flash memory chips produced by Micron using 16nm process technology. Micron traditionally uses SSD controllers from Marvell, the new drives are powered by the 88SS9189 with special firmware. The latest M600 SSDs are available in multiple form-factors, including 2.5"/7mm, M.2 and mSATA in capacities ranging from 128GB to 1TB. The new SSDs consume less than 2mW in sleep mode and average 150mW during active use.
Since the new SSDs were designed with Serial ATA-6Gb/s interface in mind, their performance is not dramatically higher compared to the rivals: the M600 provides random reads up to 100,000 input/output operations per second (IOPS) and 560MB/s sequential read speeds for all capacities.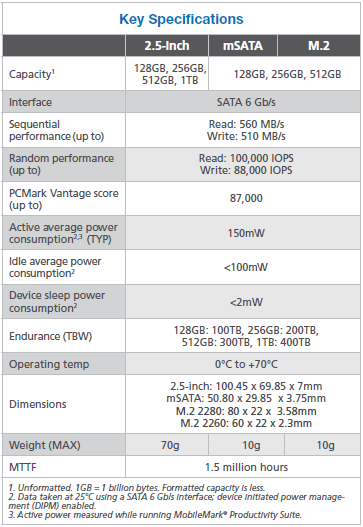 One of the key features of the Micron M600 solid-state drives is their Dynamic Write Acceleration technology that boosts writing performance of the new SSDs in certain cases by up to 2.8 times. Acceleration is achieved using on-the-fly mode, switching between SLC and MLC in the firmware to create a dynamic pool of high-speed SLC NAND blocks. This performance pool changes in size and physical location in a way that leverages client computing usage environments. When acceleration capacity is available, new data is written in SLC NAND, which produces an increase in physical saturation greater than the corresponding increase in logical saturation because SLC is less dense than MLC. Drive firmware may use interface idle time to reduce physical saturation and recover acceleration capacity. According to Micron, the Dynamic Write Acceleration does not affect durability of NAND flash and the new drives offer respectable endurance and MTTF characteristics.
The M600 drives also support AES-256-bit hardware encryption engine that encrypts data without performance degradation and complies with the TCG Opal 2.0 standards and the Microsoft eDrive protocol. The new SSDs also support numerous quality and reliability features
"The M600 sets a new bar for power, security and efficiency in client SSDs and delivers on our vision to provide the most advanced storage solutions," said Darren Thomas, vice president of Micron's storage business. "OEMs expect Micron to deliver leading-edge SSDs that give their products an advantage and a noticeably better user experience. The M600 fulfils that promise."
The Micron M600 SSD will be available this year. The new drives will only be available under Micron brand to the company's "expanded distribution channel".. Crucial, a division of Micron, does not have immediate plans to offer the M600 to its customers.
Discuss on our Facebook page, HERE.
KitGuru Says: The dynamic write technology seems to be a rather promising feature. The only question is whether it actually significantly improves user experience since for client PCs reading performance is much more important than writing performance.