Corsair is revamping its SSD line-up with its fastest SSD ever- the Force MP500. This is an enthusiast-grade M.2 drive that offers performance up to five times faster than traditional SATA 6Gbps SSDs by using an NVMe controller and a high-bandwidth PCIe Gen 3 M.2 2280 interface. In total this new drive can deliver read speeds of up to 3000 MB/s and write speeds of up to 2400 MB/s.
Corsair has been a player in the SSD market for a long time now but this is its most impressive release so far. The Corsair Force MP500 M.2 SSD uses a Phison PS5007-E7 NVMe controller, which is one of the most renowned, with support for 1Znm SLC/MLC/TLC as well as the latest 3D NAND flash. The ultra-compact M.2 2280 form factor also allows Corsair's MP500 to deliver faster performance than any previous Corsair SSD, all while being a lot smaller.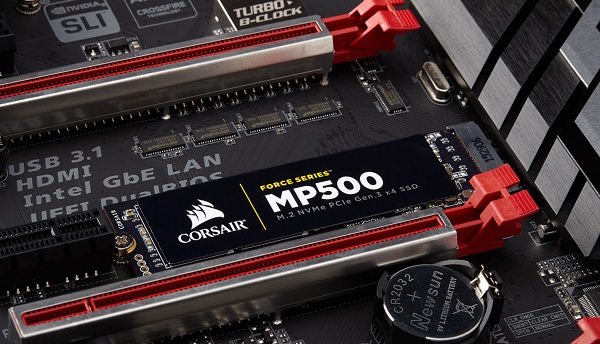 The Force Series MP500 comes in 120GB, 240GB and 480GB capacities but obviously, all of that data needs to be protected, which is why Corsair is using proprietary SmartECC, SmartRefresh and SmartFlush technologies to safeguard against data corruption in case your system experiences an unexpected power cut or unsafe shutdown.
Here is the full spec sheet:
NVMe PCI Express Gen. 3 x4 interface provides up to a 5x performance improvement over SATA SSDs.
M.2 2280 industry standard compact form factor.
Available in various storage capacities including 120GB, 240GB and 480GB.
Compatible with Microsoft Windows, Mac OS X, and Linux, with no special driver or administrative rights required.
Enhanced error correction improves data retention.
Toughened contact surface material gives better contact to the motherboard and provides vibration resistance.
Static and dynamic wear-leveling extends the life of the SSD.
Advanced garbage collection support provides extended drive management tasks.
Compatible with CORSAIR SSD Toolbox for advanced functionality.
Extensive 3-year warranty.
The Corsair MP500 series will be available at retail shortly. We currently aren't too sure how much each drive is going to cost but we will update when we find out.
KitGuru Says: Corsair's SSDs have impressed us in the past but this one appears to be their best yet in terms of sheer speed. Do any of you currently use a Corsair SSD? Are you thinking about upgrading to an M.2 drive at some point?