We've seen what it would look like watching sports in augmented reality, but virtual reality is much closer to an affordable reality. That's why LiveLike has been putting its efforts into making watching football in VR a reality and it already looks fantastic, with your own personal box-seat, alternative camera angles and the ability to chat with friends.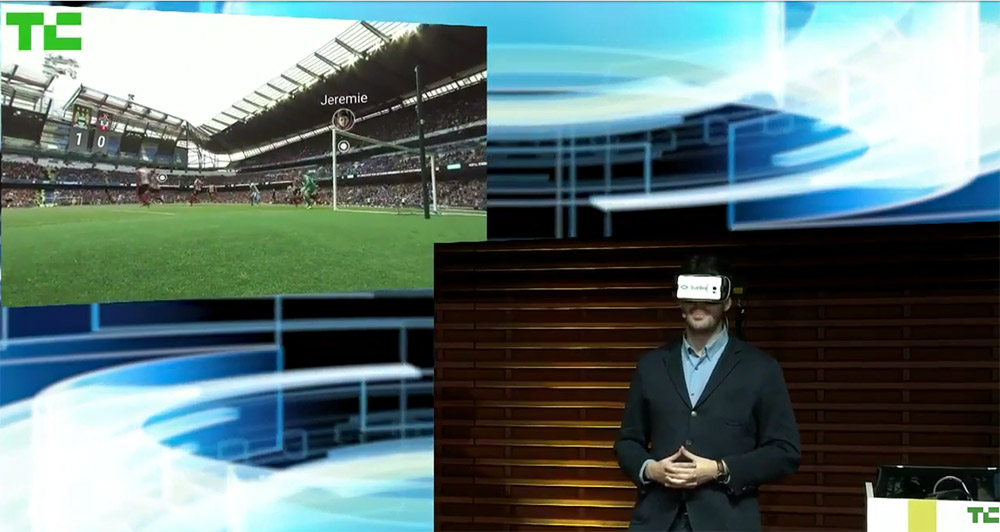 Shown off at this years's TechCrunch 1st and Future startup competition, the developers of the VR app walked away with the grand prize in the "Bringing Home the Game" category, by taking the practice of watching sports to the next level.
In the video showcase, we're given a look at VR spectators watching from on high in a box that would cost thousands to even step into usually. The viewer is also able to jump between cameras around the field, watching from a variety of perspectives, and even rewinding and watching replays from various angles – all using simple head-look controls.
[yframe url='http://www.youtube.com/watch?v=9YRVC714OE0′]
Skip to 1:20 for the action
Better yet, the whole experience is multiplayer compatible, so you can converse with friends while watching the game from any particular perspective, or in the virtual room scenario, even see VR representations of them sat next to you enjoying the game too.
While LiveLike showed its abilities when it comes to VR football, it already has teamed up with the likes of the French Open organisers to showcase tennis in the same manner later this year. With a mobile targeted audience on hardware like the Google Cardboard or Samsung Gear VR, the barrier for entry is much lower too, since affording the hardware is much easier.
With a $50,000 prize as part of the competition, the app should only get better and better and really shows that the days of watching sports on a single 2D display could be coming to a close.
Discuss on our Facebook page, HERE.
KitGuru Says: What sports would you like to watch from innovative perspectives? F1 could be pretty exciting if viewers could be strapped inside a 360 degree camera placed on the cars.