Outgoing U.S. President Barack Obama gave his farewell speech last night and for the first time in history, it can be viewed in its entirety in 360 degree video form. That means that if you have a compatible VR headset, be it PC or mobile based, you can take in the speech and atmosphere in virtual reality.
With President Elect Donald Trump set to be sworn into office on Friday, 20th January, Barack Obama took to McCormick Place, Chicago to say goodbye to his supporters. He told them that together they had made America a better place than when he was first elected and that it was down to them to help secure democracy by not taking it for granted.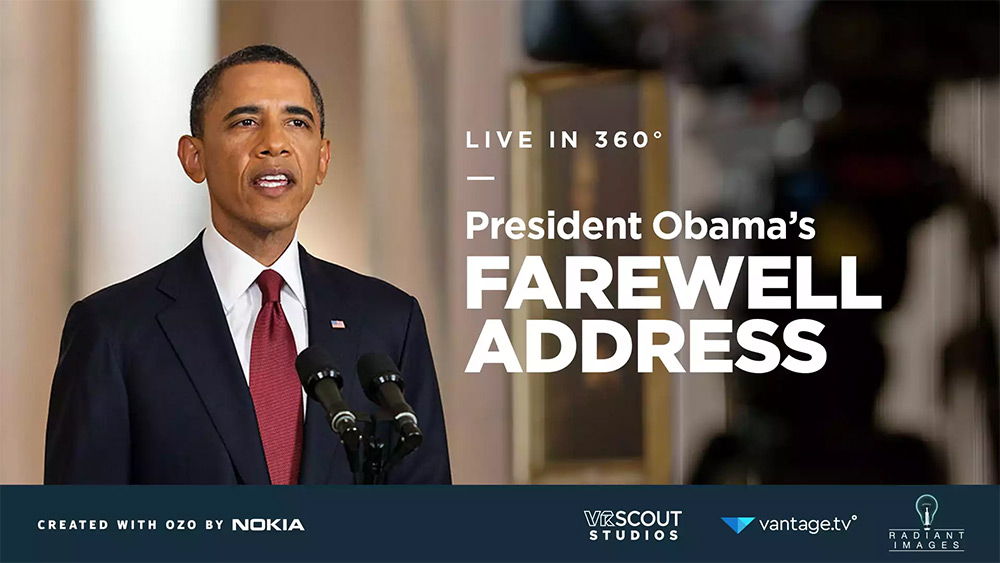 The speech was a rousing one, with chants of "four more years," at points and boos for incoming President, Donald Trump. Obama brushed each aside and said that instead people should look to reach out to one another and believe in their ability to bring about change, not his.
It's not a short speech or event, lasting upwards of an hour in total, but you can view the entire thing in 360 degrees in the video below. If you watch on a 2D display, you can click or tap and drag to look where you want during the event. However if you can strap on a VR headset, you can have a much more immersive view.
[yframe url='http://www.youtube.com/watch?v=klE8H_be_6Q']
The event was filmed using a Nokia Ozo camera, the $60,000 360 degree camera rig that it unveiled back in 2015. A number of them were used throughout, with VRScout's coverage jumping between them at various points. That not only gives you different views of the President himself, but up close views of many members of the crowd, who can be seen reacting in differing ways throughout the speech.
KitGuru Says: It's great that important moments are now being filmed in 360 degrees. I get the feeling that one day before long, 2D recordings will feel like video before colour.