Back in October when Oculus first announced the launch date for its new Touch Controllers, Epic Games briefly took the stage to announce Robo Recall, a full-blown VR game designed around the touch controllers. This was set to be one of virtual reality's first 'killer apps' and after several months of waiting, the game is finally here, for free. That's not the only good news to come out of Oculus today however, as price cuts are also inbound.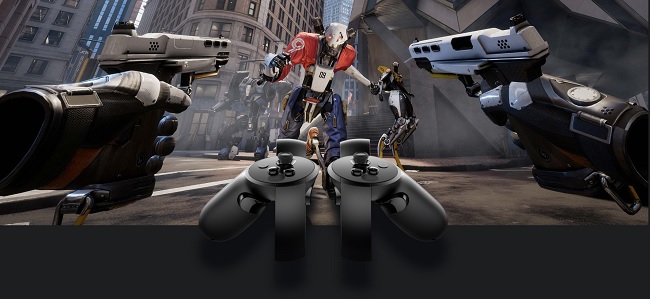 Starting from today, the Oculus Touch controllers now retail for £99 rather than £199, which seems like a much more sensible price tag. Alternatively, the Rift and Touch bundle is now £598, which would be the ideal way to go given that the Rift on its own would still cost you around £500.
Owning the Touch controllers means you'll be able to play more motion controller supported games on the Steam store but you will also get access to some Oculus exclusives, like Robo Recall. This is the highest budget VR game yet, with Oculus handing over Epic Games the same amount the studio needed for the first Gears of War in order to get it made.
KitGuru Says: After the Bullet Time demo, I was very excited for Robo Recall and after playing for an hour or so last night, I must say I'm impressed not just by the visuals but by the gameplay too. Though, teleportation can be a little tricky to come to grips with in the middle of combat. Hopefully this is a sign of more great games to come down the road for VR owners.