MSI has wasted no time at all baking Intel's brand new 9th generation CPUs into its small form factor PC solutions, unveiling the state-of-the-art Trident X series. Packed in the small 10-litre case, the compact desktop is the first of its kind to pack an SFX power supply and MSI's new GeForce RTX 2080.
Offering a choice between Intel's Core i7-9700K and the flagship i9-9900K, the Trident X series offers up to 50 percent more performance over last year's Infinite X. The i9 in particular has enough headroom for overclocking within the compact chassis, helping to "provide impressive performance for any task including gaming and video editing."
The Trident X carries a similar aesthetic to its predecessor, marking the return of its "mysterious" RGB breathing Mystic Light and the door-like tempered glass side panel. The former has been split into three different light strings for better customisation. The latter, however, focuses on added ventilation at the base of the glass panels while maintaining the ability to showcase hardware from either side.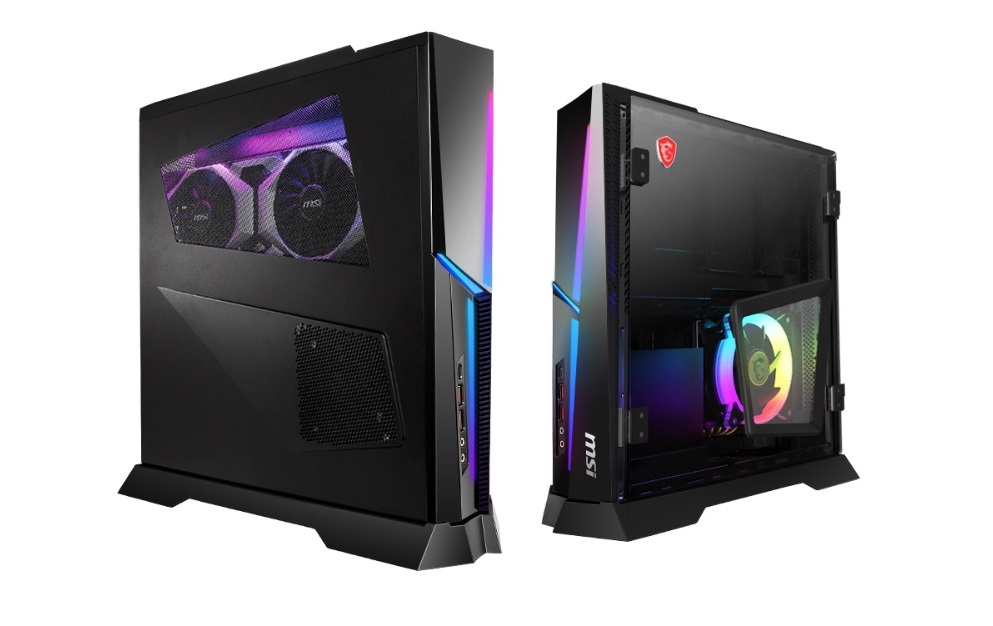 These doors are built with convenience in mind, allowing the user to easily upgrade by removing just four screws from the rear. The GPU has the left-hand side to itself given the space it takes up, while the CPU, memory and storage occupy the right. MSI's reasoning for grouping these components is to make regular changes and troubleshooting much easier overall.
A smaller space often means that hardware runs hotter. Fortunately, MSI's proprietary Silent Storm Cooling thermal system helps to alleviate concerns by introducing three separate airflows. The idea is that certain pieces of hardware are likely to run hotter depending on the task at hand, allowing the Silent Storm Cooling feature to individually cool components when gaming and/or streaming.
MSI will make the Trident X series available in November, with prices starting at $2,299.99
KitGuru Says: It's certainly mouth-watering to see so many high-end components together in a SFF system, even if the price is a little more eye-watering. That being said, pre-built systems have always carried a premium thanks to design and labour costs. Does the Trident X series appeal to you?