Since the Crash Bandicoot N. Sane Trilogy has been a smash hit for Activision, fans have begun looking forward to the company's next remaster. Many eyes are squarely on Spyro the Dragon, which might actually be closer to reality than expected.
Last month, a Spyro the Dragon easter egg was teased on the menu of the new Crash, prompting many to believe that Activision are considering it as its next remake. While at a conference call with investors, Activision's Publishing boss, Eric Hirshberg revealed his surprise over the astonishing success Crash Bandicoot has had and that the company now has another IP in mind to remaster.
"We knew that there was a passionate audience out there for Crash. Full disclosure myself among them, but we had no idea – it's hard to tell whether that's a vocal minority or whether that's a real mass audience until you put something out there," stated Hirshberg. "Crash has surpassed all of our expectations by a pretty wide margin. And a couple of stats that underscore that point where it was the number one selling console game in June based on units, even though it was only available for two days during that month."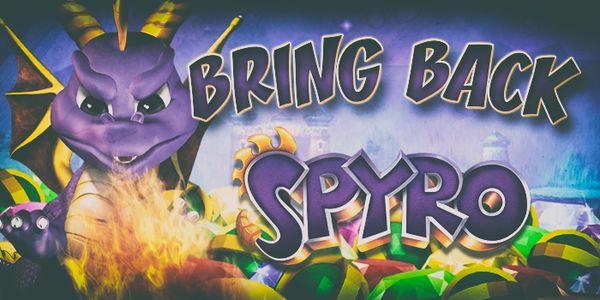 Bring back Spyro, taken from a now-closed petition that gained the support of 1,351 signatures.
Hirshberg followed on to say that the Crash remaster isn't likely to be the last of its kind. "We think we have other great IP in our portfolio that we're considering of course… I think you can be confident that there will be more activity like this in the future with more great IP."
Currently it is anyone's guess as to what IP he is referring to, but since Spyro will be celebrating its 20th anniversary in 2018, it is the perfect time for an announcement or release of something related to the franchise. It is no doubt the most popularly requested remaster since Crash released in late June, even if fans show disappointment that it might centre around the Skylanders character design of Spyro.
These are just a few of the comments surrounding the demand for a Spyro remake on PS4's reddit page.
N. Sane Trilogy developer, Vicarious Visions told IGN that it know about the demand for a Spyro remake and urges fans to "just keep asking." Hopefully this means that if fans voice their dislike for Spyro's design in Skylanders, Vicarious Visions will opt for a design closer to that of the original.
KitGuru Says: I loved the Spyro games as a child. In fact, they resonated more with me than Crash, so I would love to see them make an appearance again in the near future. Would you like to see a Spyro remake? Would you prefer a different remaster altogether?