Although Pokémon Go is undoubtedly a success, it's difficult not to notice the absence of key features that players have come to expect from the Pokemon series. One of the most noticeable missing features was the lack of legendary Pokémon, however a year down the line, legendaries are finally coming to Pokémon Go this Saturday but there are things you need to know in order to get your hands on one.
Pokémon Go Fest is an event in celebration of the game's one-year anniversary in which we already knew that players would be rewarded rare prizes for capturing monsters and doing raids. These prizes, however are legendary Pokémon. Niantic details how it is going to work in a blog post.
"As Trainers around the world go out and explore their neighborhoods in searchof Pokémon and Raid Battles, they can keep an eye out for unique Legendary Eggs appearing at Gyms. If Trainers and their team are able to successfully defeat a Legendary Raid Boss, they'll have the opportunity to catch a Legendary Pokémon of their own! While Legendary Pokémon will help them take on the toughest Raid Bosses and Gym Battles, they're not willing to leave their Trainer's side, so they can't be left to defend Gyms.
"On July 22, thousands of Trainers in Grant Park for Pokémon GO Fest and the millions of others around the world will be working together to unlock in-game bonuses for the entire Pokémon GO community. If they manage to catch enough Pokémon during the Pokémon GO Fest Challenge Windows, the first Legendary Pokémon will be revealed in Grant Park. If the Trainers in Chicago succeed in defeating the Legendary Pokémon, that Pokémon will start appearing in Raid Battles around the world, after Pokémon GO Fest."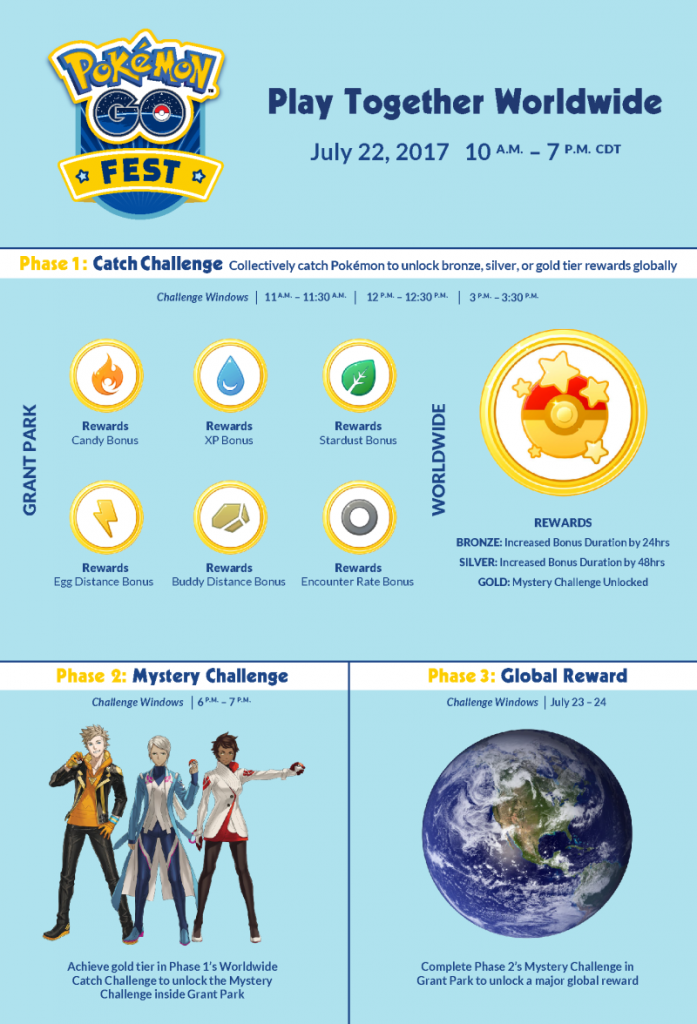 While those attending the festival in Chicago will get their hands on legendaries before anyone else, players around the world will get the same chance to encounter monsters if they meet specific requirements. It is currently what legendaries will appear and when, but we can expect to see Pokémon from Gen 1 and 2 such as Ho-oh, Lugia, Mewtwo and the mascots of the teams themselves. If all goes well, everyone will get a chance to capture their own on the 23rd of July, exclusive to legendary raids. There is a level cap to these raids, however as you have to be a minimum of level 15 to participate.
KitGuru Says: We can expect a massive influx of players this weekend, but it will depend on how well the raids go as to whether it can maintain such a player base. Which legendary Pokémon are you looking forward to the most?