Team Fortress 2 should now be a fairer place to play, whether competitively or just for fun, as Valve's latest update to its Valve-Anti-Cheat (VAC) defence system has been detecting users of the LMAOBOX software all weekend. It's led to many players being banned from the game, including almost 170 professional players from the UGC league.
LMAOBOX is a service you can download for a fee (after a free trial) to make you much harder to beat in Team Fortress 2. It opens up options like wall-hacking, automatic aiming, auto-headshots, removing weapon recall and many more little tweaks to help you win.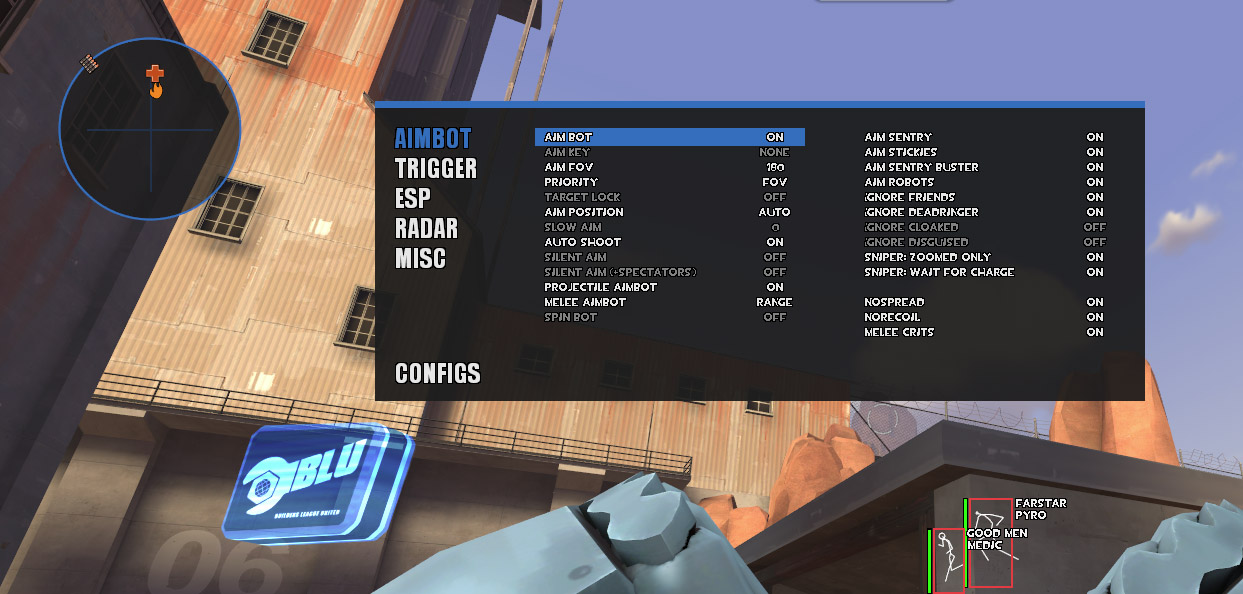 Aimbots, because the most fun thing you can do in a game is let it play for you. Source: LMAOBOX
Of course you always ran the risk of being banned by running such software, but one of LMAOBOX's other big features was that it was undetectable by VAC. At least until now. As Valve rolled out the latest update to VAC over the weekend, it picked up many, many players. The most surprising though is the inclusion of so many professional players, who may well have used LMAOBOX cheats as part of sanctioned UGC games.
A full list of them was released to the public, showing that players from all over the world have been caught up in this latest swing of the ban hammer.
In the wake of the news, it was initially thought that the LMAOBOX creator had hung up their hacking gloves, with a post on a particular forum claiming to be them, stating as such. However that has since been repudiated, with the unnamed creator stating that they would update the cheating software soon to make it difficult to detect once again (thanks PCGamer).
Discuss on our Facebook page, HERE.
KitGuru Says: Do you know anyone who was caught up in this ban wave? Will this make you more likely to play TF2 competitively again?