With the DotA 2 International competition kicking off at the end of June, that means it's time to generate some prize money. In what has become a tradition, Valve plans to build that with gamer dollars, by offering them prizes, upgrades and unlocks for DotA 2 through the sale of its Compendium, delivered this year as part of the Battle Pass.
To try and tempt you into helping beat last year's monumental total, Valve has added even more to it this year. Buyers will automatically received several "Immortal Treatures," as well as seasonal terrain packages, an evolving courier, with weather effects, music packs, a new HUD, loading screens, an announcer pack and more.
All of that can be had by anyone buying up the Battle Pass for $10 (£7), but it's in levelling it up and completing quests that the more exciting rewards lie. Quests can be completed by winning games of DotA in certain ways, with unique rewards at the end of each quest chain, including Battle Points for levelling up your pass, and a style upgrade.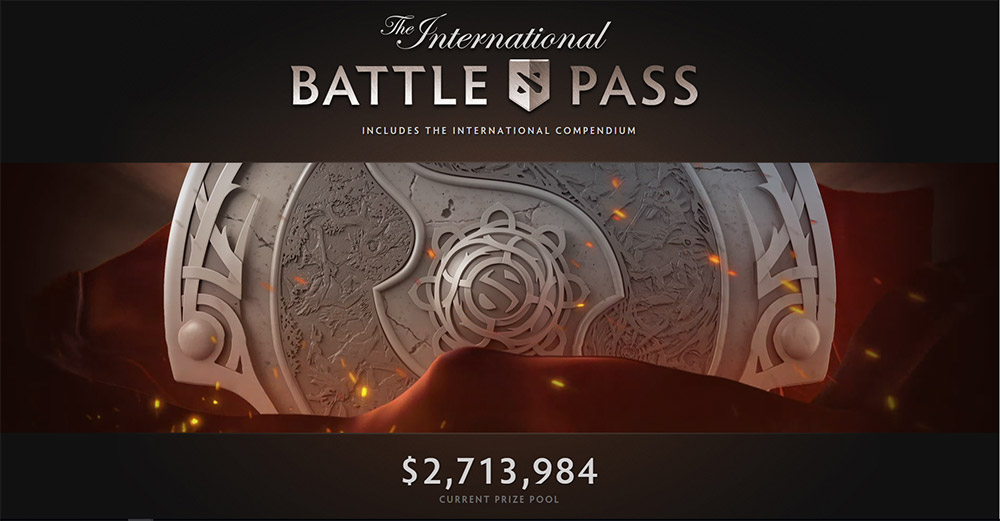 Do not expect this total to stay this low for long
You can even top up your potential winnings by wagering tokens on your games. You can tip your teammates or opponents too, if you feel they deserve some added recognition.
There are a number of other ways to earn more, unlock more and upgrade more with this year's Battle Pass: from competing in the Battle Cup, to guessing what the final total for this year's prize pool will be. Chances are it's going to beat last year's and if it does, Valve will reward everyone with even more in-game goodies.
If you don't fancy playing or taking part in the community event to level up though, you can always just buy your way through them. $2.50 gets you five levels. It might not be as much fun, but if you don't have the time or inclination then perhaps it's an option you might use.
Of course Battle Pass sales contribute just 25 per cent of their purchase price to the DotA 2 prize pool, so if Valve does pull in close to $20 million, it will be happy sitting atop a pile of $40 million £27.5 million) of its own pocket money; even if it has had to produce a lot of content to make the Compendium and Pass worth buying.
Discuss on our Facebook page, HERE.
KitGuru Says: I like how Valve involves the community in generating funds for the players, as that makes a much more sustainable environment. I'm not so much a fan of the way it gamifies spending money though.