Humble Bundle has long been a way for gamers around the world to get hold of some great classic games, as well as top up their libraries with tens of others that they'll never touch, whether they're good or not. Fortunately, it usually only comes along once a month or so, giving us a little chance to actually play the games. But no longer, as over the next fortnight, a new bundle is going live every day and for its first iteration, it's a Humble "re-bundle," looking back on Deep Silver's collection of games.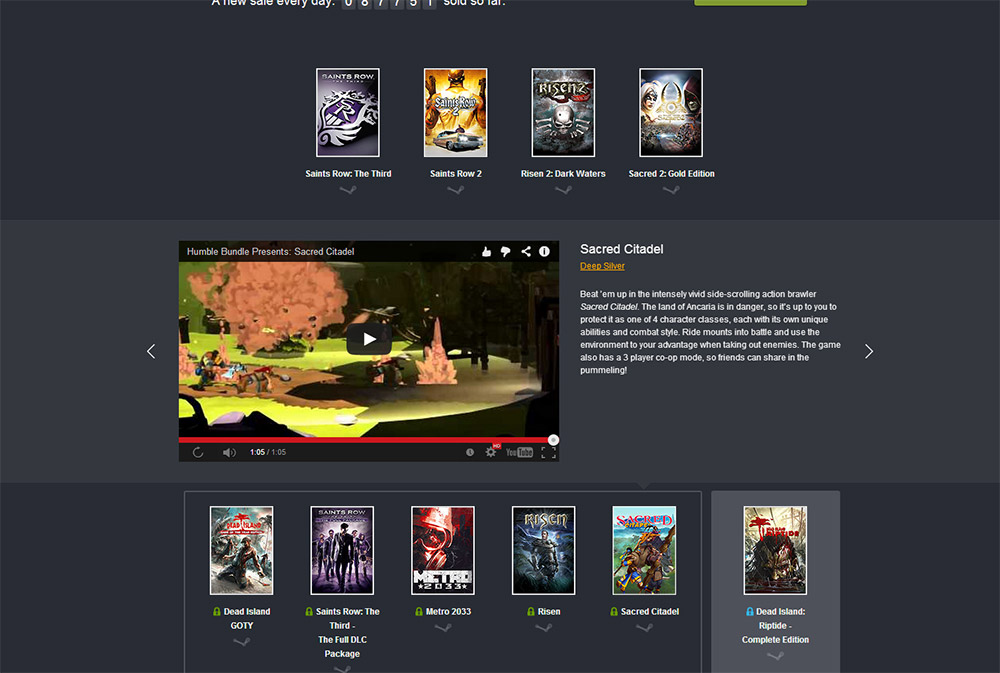 There's nine games up for grabs on the first one, along with DLC and GOTY versions. As usual, pay what you want, but paying over the average in this instance gets you a whole lot more. For as little as a dollar, you can get yourself codes for Saints Row: The Third, Saints Row 2, Risen 2: Dark Waters and Sacred 2: Gold Edition, but drop more than the average (at the time of writing $6.27) and you also get Dead Island GOTY edition, Saints Row: The Third – Full DLC Package, Metro 2033, Risen and Sacred Citadel.
[yframe url='http://www.youtube.com/watch?v=ZCpTepNXRh4′]
Go even further and pay over $9.00 and you'll also get Dead Island: Riptide – Complete Edition.
As usual, a portion of your purchase goes to charities. This time around it's Child's Play and American Red Cross.
Discuss on our Faceook page, HERE.
KitGuru Says: If you missed this one the first time around, now might not be a bad time to get in on it. You have 10 hours.