If you have a favourite mod of 2016, or if your choice last year didn't quite make the grade and is still going strong, ModDB wants to hear about it. As it has every year for the past decade and a half, ModDB is looking to crown its Mod of the year 2016, with 100 of the top contenders from a number of games, new and old alike, now available to vote on.
There's a wide range of contestants this year, from complete game overhauls, to graphical updates and unit/roster expansions. They also cover the gamut from shooters, to strategies and role playing games, though there is a definite trend towards older games – after all, there's been more time available for people to work on them.
Some of the games with highly rated mods this year include Mount and Blade: Warband, Freelancer, Doom, Dawn of War, Battle for Middle Earth II, Medieval II: Total War, and Battlefield 2. There are a few modern games in the mix too though, with Slime Rancher, Total War: Attilla and Crusader Kings 2 all making the cut.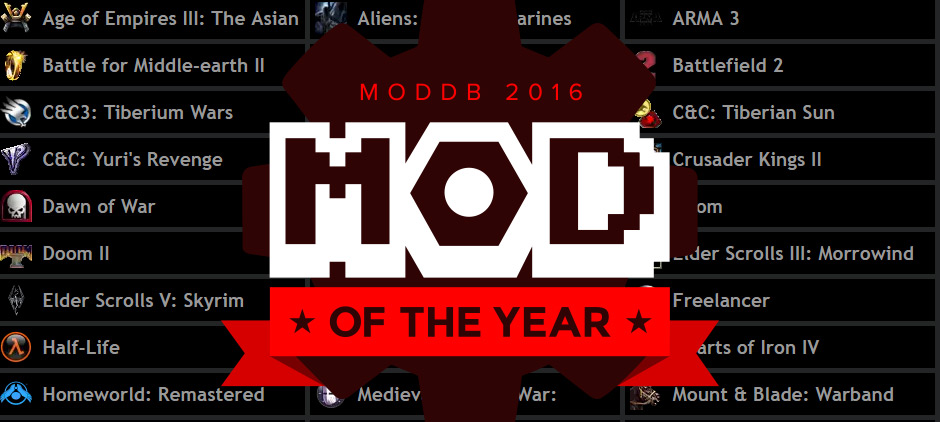 So far over 90,000 votes have been cast, with five days still left to go until they will be collated and the results announced. Sega is the official sponsor of this year's awards, using it as a bit of a spring board to remind everyone that it recently added modding support for games like Total War: Warhammer, which should bring all sorts of exciting additions to the game, as well as for its Sega Mega Drive Collection, which makes sharing custom ROMs easier than ever before.
Discuss on our Facebook page, HERE.
KitGuru Says: Do you guys have any favourite mods that you'd consider the best of the year? The only game I've modded in 2016 is Kerbal Space Program. I can't be launching spaceships without my Kerbal Engineer Redux info.