If you're a Wii U owner and feel like there's only Smash Bros and Hyrule Warriors to look forward to in the next year, think again. Nintendo has released a full schedule for not only the rest of the year, but most of next year too, hinting at a number of games that are sure to have classic fans frothing at the mouth at the sheer potential.
Coming up later this year are of course, the aforementioned big releases are going to be big standouts, but there's also Bayonetta 2 coming in Octobeer, Sonic Boom in November and Captain Toad Treasure Tracker during the Christmas period. As well of those, there will be some higher profile indie releases too, like Affordable Space Adventures and Swords and Soldiers II.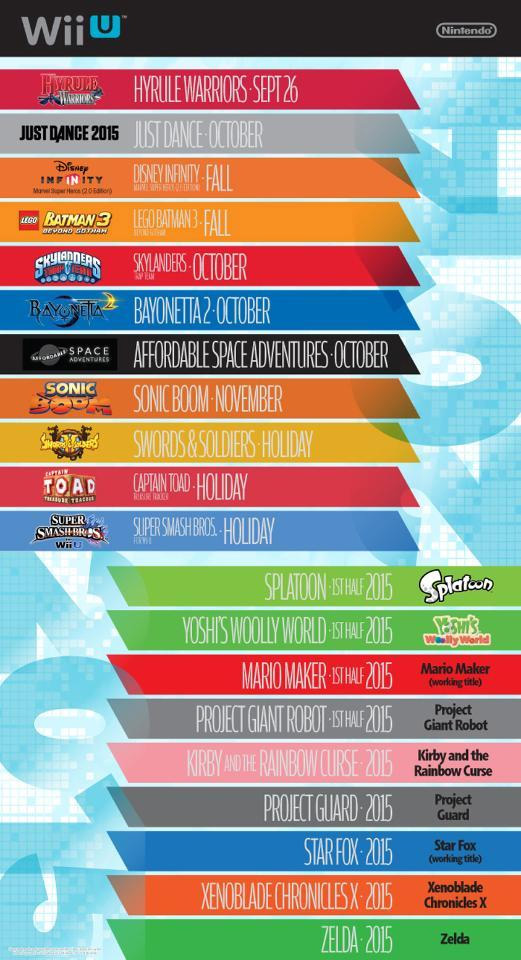 Next year there's not only Splatoon and Yoshi's Wooly World in the early months, but Mario Maker; a new game featuring everyone's favourite suctioning pal, Kirby and the two little projects from Miyamoto: Guard and Giant Robot.
However there's also that Zelda game that Nintendo teased us with at E3, with its big open world and lovely visuals, Xenoblade Chronicles too, and a brand new Star Fox game, though that's said to be a working title.
KitGuru Says: If you have a Wii U, is this an exciting lineup? If you don't have one though, does any of this tempt you into buying?