A team of modders has developed a map for vanilla Minecraft, which is an entirely new, 3D Pokémon game. Called Pokémon Cobalt and Amethyst, the game has a battle system, random encounters, an overarching story, items to find and most importantly, 136 new Pokémon to discover, evolve and battle with.
Developed over a period of 31 months with the support and input of more than 30 people, Cobalt and Amethyst began life as a proof of concept Pokémon Battle System. Once that was proved viable, though, the developers took it from there and built a whole game around it.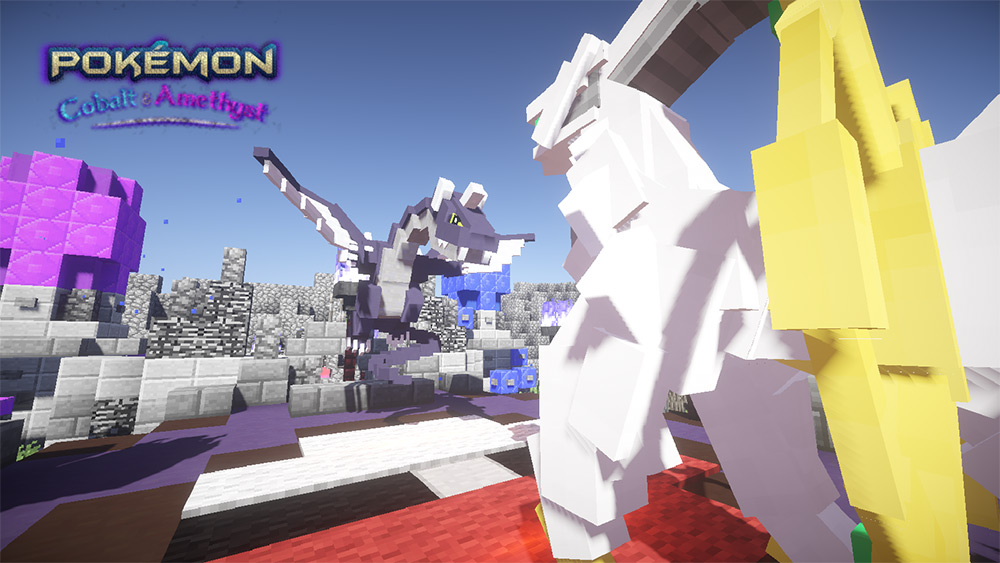 In Pokémon Amethyst and Cobalt, players explore the Suliqu region of the Pokémon world, where Team Tempest is looking to use a legendary "darkness," against the region. It is down to the players to stop them by using the power of their newly acquired Pokémon. They'll have the support of the local 'Professor,' as usual, and there will be a few friends to make along the way.
The map features 10 towns and locations to explore, with eight gyms and the usual championship fights. This is, in essence, a full Pokémon game. Indeed the developers claim that it should provide between 60 and 80 hours of gameplay in total.
Installing the map isn't quite as easy as plugging in a Pokémon cartridge, but for anyone who's played on custom maps before there shouldn't be too steep a learning curve. You'll need to be running version 1.8.8 of Minecraft and install a few files and folders, but the developers break down the whole process on the Minecraft forum (thanks EG).
It's also recommended that players make regular backups to avoid game breaking bugs wiping their progress.
Discuss on our Facebook page, HERE.
KitGuru Says: Impressive stuff. Perhaps even more so than those games built in a more forgivable engine like RPG maker.