A few weeks ago, Turtle Rock, makers of Left 4 Dead and the upcoming monster stomper/shooter, Evolve, asked its fans to name the first DLC monster for the game. All of the options were related to size and strength, like Colossus, Titan and Juggernaut. However none of those made the cut and instead, the community settled on Behemoth and now we get our first look at the big fella' in a brand new reveal trailer too.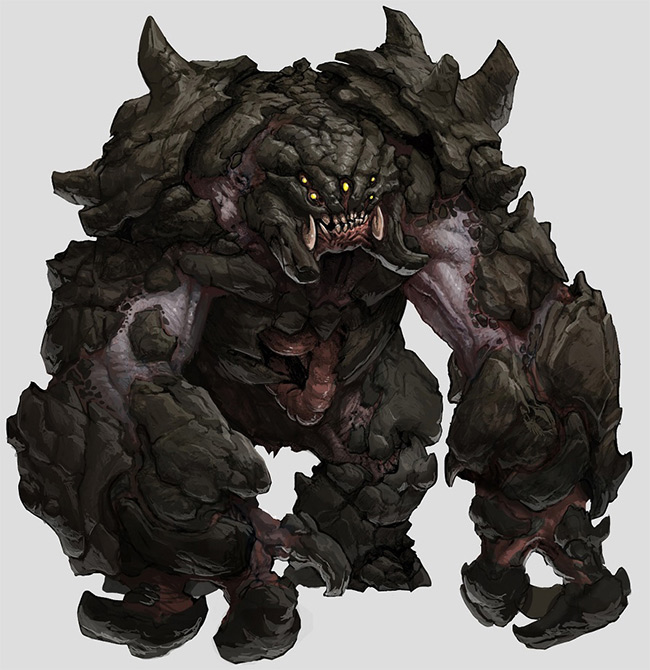 The Behemoth's strengths and abilities are quite unique. It's the biggest monster that Turtle Rock can fit in the game, it can throw lava bombs, raise the very rock from the ground to block hunters' fire, can roll over the terrain and packs the most armour and health of any monster yet created. But it is slow and can't jump, those are its big weaknesses.
[yframe url='http://www.youtube.com/watch?v=VQW3Tein4dk']
If this all seems a little early to be talking about DLC that looks this polished – the game isn't even out until February – it's all down to Turtle Rock hoping to secure a few more pre-orders, as you get the Behemoth as soon as he's released if you pre-purchase the game. It also gives Xbox One players access to extra hunters and the Wraith monster during the beta, set to start tomorrow (if you're an Xbox One user) and when the game launches, along with the Savage Goliath skin.
Like every AAA title that's come out in recent years however, our purchasing options don't stop there. As well as a pre-release standard edition, there's also a Digital Deluxe package that offers not only the game with a free Behemoth and DLC skin, but also the Hunting Season Pass, which gives access to four new hunters when they launch in the "spring," and three extra monster skins at launch.
If that's still not enough for you however, you can pre-purchase the Evolve PC Monster Race edition (see what they did there?) which, understandably, is only for PC users. That comes with the game itself, the Behemoth when released, the Hunters Season Pass content, the extra monster skins as well as access to the unannounced fifth monster and the fifth and sixth DLC hunters; again, when released.
There's also some extra skins which won't be purchaseable by anyone but Monster Race edition holders for the first 30 days. The whole thing is priced at $100. No UK pricing has yet been announced.
Discuss on our Facebook page, HERE.
KitGuru Says: As much fun as I've had playing the alpha of this game (and probably the beta this weekend), I still don't think it's a good idea to pre-purchase all of that extra content. It's rewarding a company for work that hasn't even been completed yet. Let them prove that the game is worth it before you drop a lot of money on any unreleased content.