Update: Following revelations surrounding a pair of popular Youtube content creators and their underhanded involvement with a Counter Strike skin betting site, other Youtubers have now been caught up in the scandal, with some looking to hide their tracks.
Josh Beaver, otherwise known as JoshOG, admitted in a recent stream that he too has a stake in CSGOLotto. This is despite the fact that he's previously posted a number of videos of him promoting the site, as if he was merely a regular user. In an attempt to cover up this admission, JoshOG has been deleting videos with references to it.
As the old adage goes though, the internet never forgets, as PCGamesN has a collection of clips and links from archived videos where he either discussed the site in a positive light, or retained a link to it in the description, without admitting any involvement.
In one instance, he claims to not be worried by his involvement and the fall out – though did say that he wasn't aware of how big the controversy had become – and said it was common for early sponsors of such sites to ask for equity in return.
It's definitely illegal, and definitely reported to the FTC https://t.co/GZcOODXPS6

— Video Game Attorney (@MrRyanMorrison) July 4, 2016
Clearly though he is now aware of how serious the situation has become, as finding an official reference to it on his account isn't easy. It could well be because a number of lawyers, like Ryan Morrison, have weighed in, pointing out just how illegal non-disclosed promotion of entities you own, especially when marketed to children, is.
There is the real potential for jail time and serious fines, especially since one of the original offenders has been caught out by the FCC before. ProSyndicate was previously caught out receiving a payment to promote the Xbox One launch of Ryse, without disclosure and was found to be promoting a game he had a hand in producing, again without letting anyone know.
Another Youtuber, known as PsiSyndicate or to the real world, Lewis Stewart, has also admitted paid promotion for gambling sites with rigged content making them seem better than they are. Although he admitted that it felt wrong taking part in the promotion and he had considered giving away the knife that it won him, it was his favourite and he isn't sure yet.
"A lot of CS:GO youtubers are going to have things that we aren't too happy to admit and will hide, and that's what I've been hiding for a while now and it's not been the hardest thing," he said.
Original Story: Two popular Youtube content creators have been called out on their supposedly 'entertainment focused' videos that promote Counter Strike gambling site, CSGOLotto, a site they both partly own. These sites have also drawn a lot of criticism lately for theoretically allowing underage gambling, so these guys being covertly involved with one hasn't gone down well.
Counter Strike: Global Offensive (CS:GO) gambling sites have become incredibly popular in recent years, as they provide players a chance to win a number of in-game items for their accounts. Of course with every gambling system though, there's also a very real chance you could lose a lot too.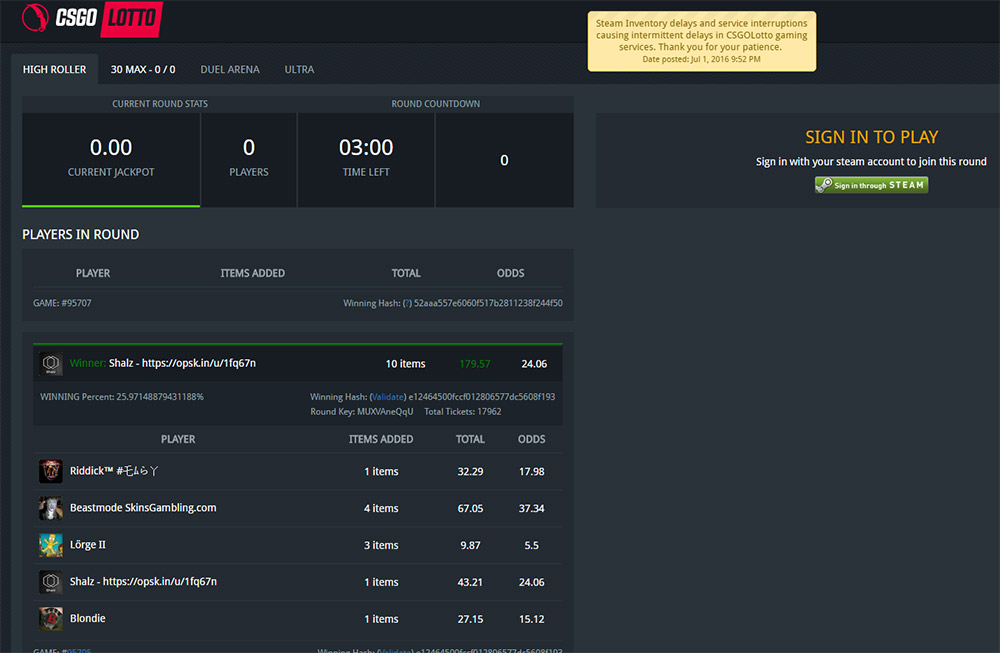 CSGOLotto has been non-functional for a few days
That means they're lucrative for the owners, so it seems likely that both Trevor "Tmartn" Martin and Tom "ProSyndicate" Cassel have made a lot of money from their ownership of CSGOLotto. However they are now being accused of deceiving their fans by creating videos where they claim to have discovered the site organically and encourage people to use it.
They also both posted videos showing themselves winning big on the site – advertising it through highlights, with titles like "how to win $13,000 in five minutes."
Considering the audiences of Let's Players like these tend to be quite young, this has caused a lot of concern. Although both have since stated that they were clear with their site ownership all along, many people disagree, including h3h3, which provided a good breakdown of the drama surrounding these sites.
[yframe url='http://www.youtube.com/watch?v=_8fU2QG-lV0′]
Beyond their own involvement with this, CS:GO gambling sites have been raising some eyebrows and red flags for a while now. Their mechanics can lead to some losing hundreds, if not thousands of dollars on single rolls of the digital dice. These sites often have lax age restrictions too, which means children are able to use them without oversight and there are real concerns it's leading to gambling addictions among players.
Valve is even being sued because of its seeming disinterest in protecting players from these third party services.
There is a giant storm brewing around not only gambling sites, but another wave of Youtube creators seems set to be caught out in a community sting. There are lots of reports and rumours of both of the above accused Youtubers and many others, for taking part in more sponsored content videos without revealing it.
Companies like Activision are said to be doling out lots of free random drops in games for Youtubers, who can then post videos of them winning big, again encouraging their audiences to spend money on the off chance that they'll get something good.
Discuss on our Facebook page, HERE.
KitGuru Says: Is CS:GO skin gambling something you guys take part in? Do you think these sites encourage underage users, or is that something that parents should be taking more of a hand in preventing?
Sources: HonorTheCall, Reddit,