The seemingly impossible happened earlier this week, as Valve finally shipped a brand new game in the form of Artifact. It might not be the project that many Valve fans had hoped to see, but the game appears to be doing incredibly well regardless, with a peak active player count of over 60,000 within the first 24 hours.
Artifact launched on Wednesday this week, the Dota 2-themed card game is wildly different to the likes of Hearthstone or The Elder Scrolls Legends. According to the stats, player counts peaked at just over 1,000 players during the beta phase. Upon release, this shot up to a 24-hour peak of 60,740. Right now while those over in the US are still asleep, there are over 32,000 people currently playing the game.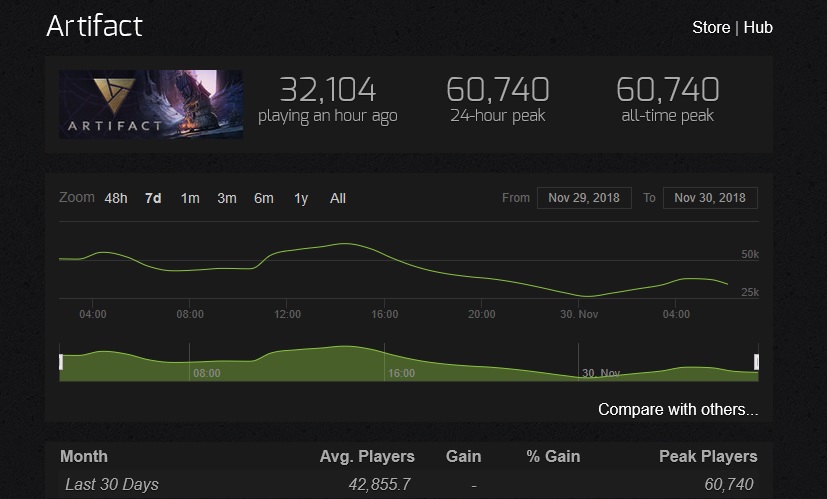 Artifact might not topple Hearthstone numbers, but the game has yet to launch on mobile platforms and has a very different approach to gameplay and monetisation. Instead of getting the game for free and grinding for your first sets of cards, you pay £15 upfront for two starter decks, five event tickets and 10 booster packs- each one containing 12 new cards and a guaranteed rare.
All of your cards can be sold on the Steam market, you can also utilise the Steam market to your advantage by purchasing any particular card that you want. Artifact isn't a game built around owning every single card, but rather crafting your own personal set. Beyond that, you can try all of the cards in the game through the casual/free constructed and draft modes, giving players a chance to experiment, practise and learn before investing into building a competitive deck.
It will be interesting to see how Artifact's numbers hold up over the next few months. Typically, Valve games do very well and have a long life-span, but there are plenty of critics when it comes to Artifact and a card game like this could end up being niche in the long run.
KitGuru Says: I am thoroughly enjoying Artifact myself, although I must admit that I got very lucky with my first card packs. I pulled in some high-value duplicate cards that I was able to flip instantly. Have any of you played Artifact already this week? What do you think of the game so far?