It seems that Titanfall is ready for testing as Origin account holders are starting to receive invitations for the Xbox One Alpha test, word of the invites began to spread on NeoGAF, where multiple users have received emails and have investigated further to check that these emails aren't part of some scam.

Upon receiving the email you will be forwarded to a registration page where you will have to enter your Origin account details, once that's complete you will be left with this screen: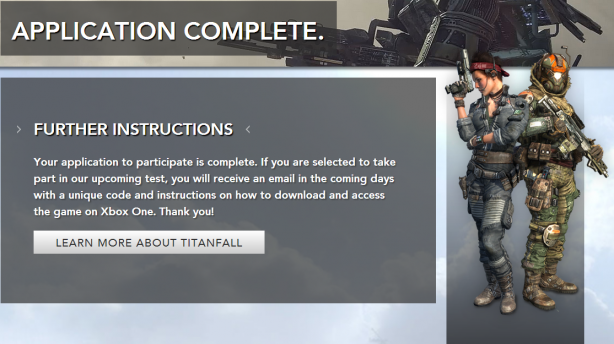 EA customer services has confirmed that the invites are in-fact real:


A Microsoft representative re-confirmed the test while talking to Polygon: "We are very excited for Respawn Entertainment and Electronic Arts' 'Titanfall' on Xbox and look forward to hearing more about the game in the coming weeks and months,"
There is a downside though, the test seems to be limited to the Xbox One, at least for now. Hopefully with this announcement, we'll see a PC beta soon. It would be wise for EA to be thorough in its testing this time around after what happened with Battlefield 4.
KitGuru Says: The game is only a couple of months away so getting people to test it is probably a good idea. I don't think the publisher can afford to have another botched game launch.