Last week, Microsoft's plans for an 'Xbox All Access' bundle leaked onto the web. Today, the company has officially announced it, bundling in two years of Xbox Live Gold, Xbox Game Pass and an Xbox One console for a monthly fee that covers the costs over time- very similarly to how carriers sell smartphones on contract.
With the Xbox All Access deal, you'll essentially be paying a monthly contract fee for the console itself and the associated services. The Xbox One S All Access deal will cost $22 while the Xbox One X version will be $35. As VentureBeat points out, the Xbox One S bundle is like paying for two years worth of Xbox Live Gold and Game Pass and then getting the console for $2 per month, or $48 overall. The Xbox One X bundle is closer to retail pricing, although at the end of the contract, you'll have paid $360 for a console that currently sells for $499, which is a fairly good saving.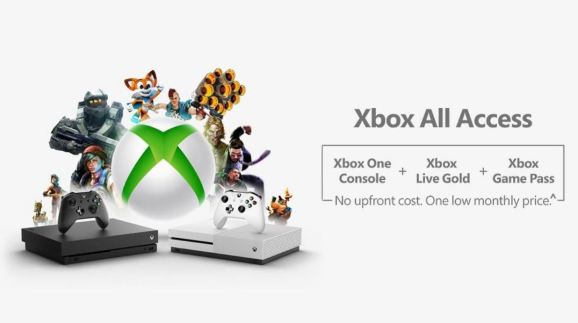 Microsoft tried a similar tactic in the US with the Xbox 360 towards the end of its life cycle. That time around, it didn't really take off but it could get a bigger push now, especially with Game Pass included, which is constantly adding solid games to its lineup. Most recently, Game Pass gained The Division, Fallout 4, The Elder Scrolls Online and DOOM. All future Xbox exclusives will also be available on Game Pass on launch day.
Once the 24 month contract is over, the console is yours to do whatever you want with, just as the case would be with a smartphone contract. If you want to stop paying before the 24 months are up, then you'll need to cover the remaining cost.
According to Microsoft, this is a "limited-time offer", so it might not be around forever. However, it is an interesting way to try and sell a console. The other catch is that this is only available in the US and currently, there are no signs that Xbox All Access will launch elsewhere.
KitGuru Says: I was initially a bit critical of this idea when it first popped up last week but having thought about it a bit more, it is a pretty solid deal and the One X in particular still has plenty of life left in it. Microsoft is moving towards a 'services first' future for Xbox, with that in mind, the phone contract model does make a lot of sense.