Update: Following the partner email leak from earlier this week, Twitch has now confirmed that it is adding $9.99 and $24.99 subscription tiers to channels. These will be rolling out in beta form over the next few weeks and will allow streamers to offer additional perks to those in the higher tiers.
Writing on its blog, Twitch said: "Complementing the current $4.99 option, partnered content creators will have new $9.99 and $24.99 subscriptions that allow viewers to offer additional levels of support. Subscriptions are a defining part of the Partnership program since it enables fans to show appreciation for their favorite creators, while adding to the native language of Twitch by introducing new emotes daily. In addition to providing the community with more options to support their favorite creators at higher levels, Partners will be able to reward their super fans with special perks, such as new exclusive emotes."
Aside from that, you will be able to gift someone else a channel subscription starting from later this year.
Original Story: Twitch has introduced a lot of new ways to spend money on its platform in the last year or so. Not only can you subscribe and donate to channels themselves, but you can also buy digital currency (Bits), Twitch Crates and full games. Now, it seems that Twitch may be rolling out new subscriber tiers too, with $9.99 and $24.99 options, according to a leaked email.
An email that was sent out to Twitch partners has since been uploading to imgur (see below) for everyone to see. According to the email, these new $9.99 and $24.99 tiers will be rolled out in beta form for the time being. The idea is that if streamers can push more people to the higher subscription tiers, then things like the amount of chat emotes available will unlock faster. For those out of the know, Twitch channels get a certain amount of chat emotes based on the number of paying subscribers they have. If someone jumps from the $4.99 sub option to $9.99, then they count as two subscribers when it comes to unlocking new emotes. Those paying as much as $24.99 would count as six subs.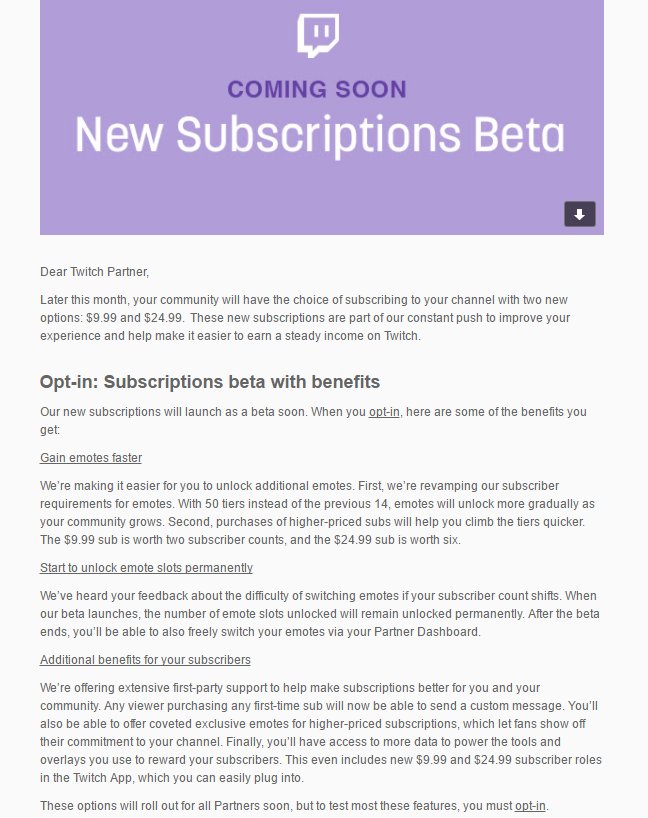 According to the email, Twitch channels will be able to lock specific chat emotes to higher subscription tiers. In addition, first-time subscribers will now be able to send a custom message to the streamer. Finally, streamers will also be able to assign different chat roles depending on the amount of money that person is paying per month.
Higher subscription tiers isn't an entirely new concept. Some streamers have resorted to using things like Patron or GameWisp to get viewers to pay more. However, with Twitch set to offer higher tiers natively, it will be more widely encouraged.
KitGuru Says: At this point, there are so many different ways for viewers to give money to Twitch and different streamers. However, it is important to note that Twitch hasn't publicly announced this new program yet, so there may be more details to come.